My father died when I was 18.
It took me 10 years to realise I don't have to blame myself for his death. And in those 10 years I lived with guilt. Well, I felt guilty of many many many things throughout my life, and my father's death was just another one of them. Not a small one, though.
Through my rational mind, I knew I wasn't the one to blame for his death. It was not me, who was working too much, drinking too much, not sleeping enough and eating unhealthy. It was him, doing it to himself.
Yet still I felt responsible for his death. Because I didn't prevent it.
*
This is the first post in the series What I wish I knew sooner as an adult child. You can read the intro post, where I go through the characteristics of adult children here:
What I wish I knew sooner as an adult child?
List of all the posts in the series:
*
His funeral was huge. A lot of people came to pay their respect. He was a hard-working guy. But also a kind guy. When he smiled, his cheeks raised up and there was love in his eyes. He was a smith, a professional welder, he knew how to repair all kinds of farm machinery. So his schedule was always full. After he was done with the job for a day, he continued working somewhere else. And if it happened, that he came home after job, hoping to rest in front of television, my grandfather came and begged him to do something on the farm.
As I look back on him now through my memory, I would describe him as shy. Loving to interact with people, but being slightly reserved, holding himself back a little bit.
He had no boundaries, when it came to work, when somebody needed him, when something unexpected happen, he would get back to work asap and solve whatever needed to be solved.
After all the work he would stop on the way home at some bar to have a beer and meet people who need his expertise next. That's how you do business, in a pub. Drinking beer, talking, meeting people, getting offers, accepting them, doing the work, getting paid (or sometimes not), repeat. And then he came home late, drunk.
My mother wasn't happy.
I loved him as a kid. And even as teenager, I loved going with him for thermal baths when he occasionally decided to take a day off. Or to drive with him to Austria where he was paying off mortgage. We always went for pizza afterwards or something else to eat. He was not stingy, he loved to pay for good food.
He always stopped eating at 2/3 of the meal, saying he needs a rest, smiling and after a minute or two of resting he continued eating. Gosh, I have tears in my eyes remembering this. I felt loved at those moments, I felt like we are doing something together.
And beneath it all, there were so many things I wanted to say to him, things I wanted to confront him with, things I wanted to beg of him. Things like:
Father, I love you. (We were not saying these words to each other in our family.)
Father, will you stop drinking alcohol?
Father, will you make things right with my mother?
Father, can we go to therapy, as a family?
I remember I once wrote in my little notebook suggestions that I wanted to share with him about how he can communicate with my mother more effectively, what he can do to improve the marriage.
I never shared those things with him. I didn't want to destroy our moments together with a fight in front of other people. I seriously don't know how he would have reacted in public. Maybe there would be no fight, and he wouldn't start guilt-tripping me with the fourth commandment "Honour your father and your mother, that your days may be long in the land which the Lord your God gives you", saying that he works for all of us and that he has a right to drink if he works, like he did when I tried to talk with him at home.
I hoped to acquire courage to say those things to him when we were in public, because maybe he would react differently than at home. But I didn't have the courage.
And after he died I blamed myself for not trying harder. For not making him see he needs help. That all of us need help. I blamed myself for his death, because I didn't have the courage to tell him I loved him. What if he would rethink his drinking, if he knew someone loves him?
I blamed myself for not pushing harder on my mother, that they must divorce. Maybe divorce would change him? Maybe he would realise what he has lost due to his drinking and would go sober, change his ways?
And besides all that, I felt guilty of his death, because I was afraid I caused it with sometimes thinking in anger "Die, so it's all going to be over already" when I would hear him falling in the bathroom when he got home late and not knowing should I go help him or should I try to fall back asleep.
Yes, he was this good guy that everybody loved. But he was also stubborn as fuck. When we went for family gatherings, he wouldn't let my mother drive back home, despite him being drunk. When I watched Billions and Bobby's friend drove his kids while being drunk, I felt like Bobby's reaction to it was exactly the right thing to do.
If I had kids, I would probably go crazy, if I heard somebody was driving them while being drunk. But as a kid in the back of the car, still trusting my father (because I loved him and he was usually kinder and more fun than my mother), I didn't really understand why my mother is making such a big deal out of it. And why she didn't like me driving around with him from bar to bar, where I drank juice with a whipped cream. I soon started feeling guilty of this as well. My desire for whipped cream made me a partner in crime with my dad. And I was a fat kid already, I shouldn't eat cream. Shame, guilt, shame.
*
When you are a child in a dysfunctional family, things are super confusing. There is a lot of chaos, but then there is also love. You still see parents (and other adults) as all knowing, but then you are super confused, why can't they just simply talk to each other and make things alright.
And children do, whatever they can, to improve the situation. Because your survival depends on your parents. If they are alright, you are going to be alright. So you start taking the responsibility for your parents. Try to make peace between them. Try to understand their both points of view and make them see they can communicate more calmly, with more understanding, more love.
But your efforts doesn't really have a lot of effect. And you start withdrawing. Going to your inner world or spending more time at your friend's. Later on you maybe start self-medicating with alcohol, weed, drugs. Or work work work, trying to buy the sense of self-worth with achievement.
And there is this feeling, no matter what you achieve, that you are a failure. If you were smarter, kinder, more loving, more hard-working, more useful, more whatever, you could save your family. You could make them see life is not that bad. We can talk. We can get help. We can do things together without so much drama. Or dramatic silence.
But you couldn't.
AND
IT WAS NOT YOUR FAULT.
It was not your fault they didn't get help.
It was not your fault they didn't live healthier.
It was not your fault they couldn't face their emotional baggage.
And the consequences of their (in)actions are not your fault either.
You deserve love and inner peace and self-compassion and self-forgiveness.
*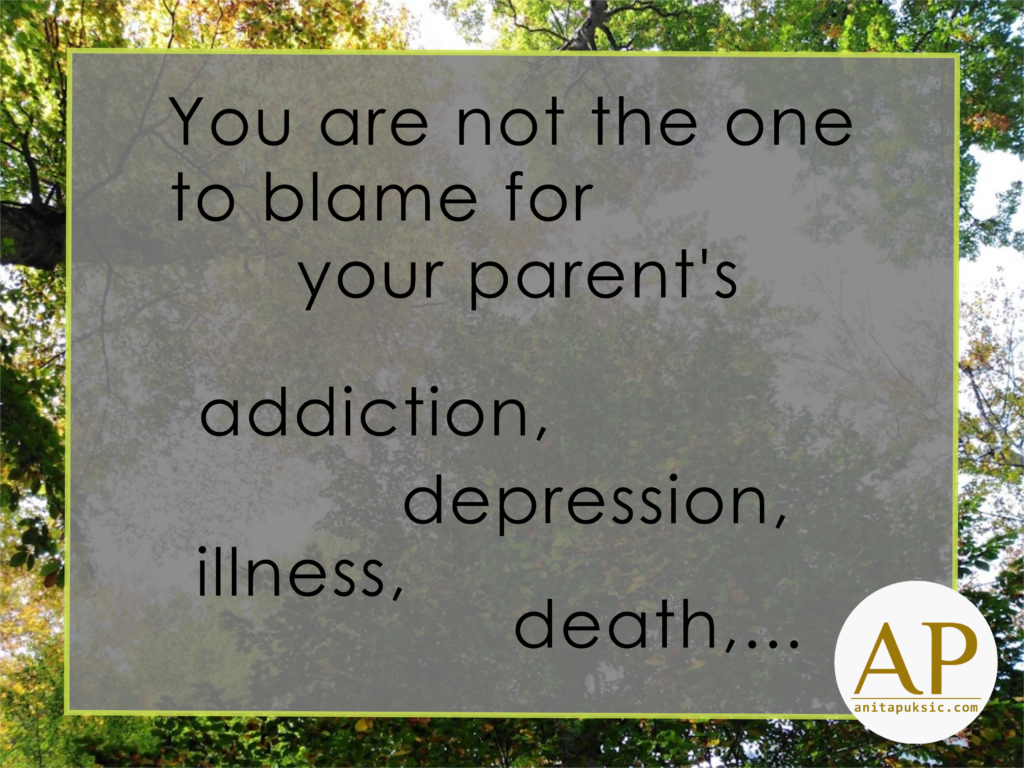 Thank you for reading. Thank you for facing your baggage. Thank you for doing the inner work. Thank you for searching for help and being open to it. You are doing great work in breaking the pattern.
*
In the next post in this series I will speak about how this guilt for not being able to save your family members holds you back from expressing your genius in business/workplace and being loved for your true self in personal relationships.
*
In case you have dreams you want to achieve and a lifestyle you want to be living, and you are looking for a coach who is aware that adult children sometimes has irrational fears around what others may consider a normal thing to do (for example: stating boundaries, saying no, asking for what you want, stop working when you are tired), I might be the right person for you. Check my coaching packages and if you want to check first if you even enjoy working with me, apply for Friday's Pay What You Can session with me.
With Love,