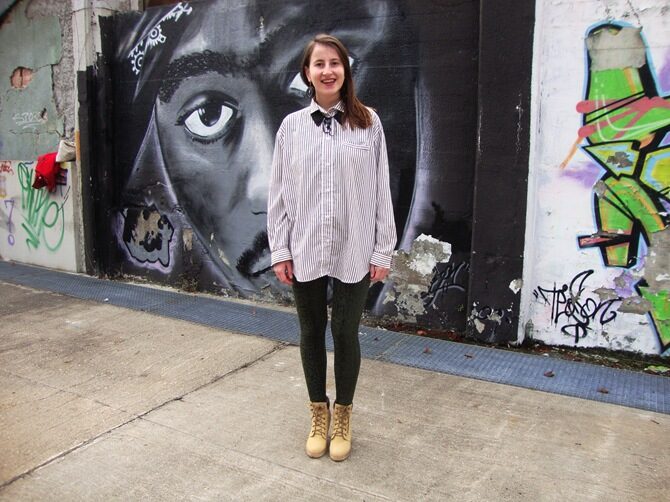 Haha, I just realized I wore the same leggings last year when I and my guy went to the cinema to watch first part of Hobit. A week and half ago we watched second part and I love it. The story is not exactly the same as in book (as much as I remember it, I read it about 13 years ago, hmm, could read it again), but it's still very interesting. Legolas (Orlando Bloom) aged a bit, I guess he's not a real elf. Wait, Hobit is prestory of LOTR and he looks older in it so he actually grows younger. Hah. Anyway.
Otherwise, I think a lot lately. About my life, about what I want, about what I really want and what's possible for me. Sometimes I felt really down in the last week, have to admit. So I guess I'm ready for a new breakthrough. It's usually darkest before the dawn, ain't?
* * *
Haha, pravkar sem ugotovila, da sem lani imela oblečene iste pajkice, ko sva z Juretom šla gledat prvi del Hobita. Pred tednom in pol sva šla gledat drugega. Meni je bil zelo všeč. Zgodba sicer ni čisto po knjigi (koliko se spomnim, glede na to, da sem jo prebrala pred kakšnimi 13 leti – hmm, lahko bi jo še enkrat), ampak je vseeno zelo zanimiva. Legolas (Orlando Bloom) se je malo postaral, mislim, da ni pravi vilinec. Čakaj, Hobit je predzgodba Gospodarja Prstanov, in on zgleda v njem starejši, torej se dejansko pomlaja. Hah. Kakorkoli.
Drugače zadnje čase ogromno razmišljam. O svojem življenju, o tem kaj si želim, o tem, kaj si resnično želim in kaj je sploh uresničljivo za mene. Par krat v prejšnjem tednu sem bila res na dnu, moram priznat. Tako da sem verjetno pripravljena, da se spet dvignem. Po navadi je najtemneje pred zoro, kajne?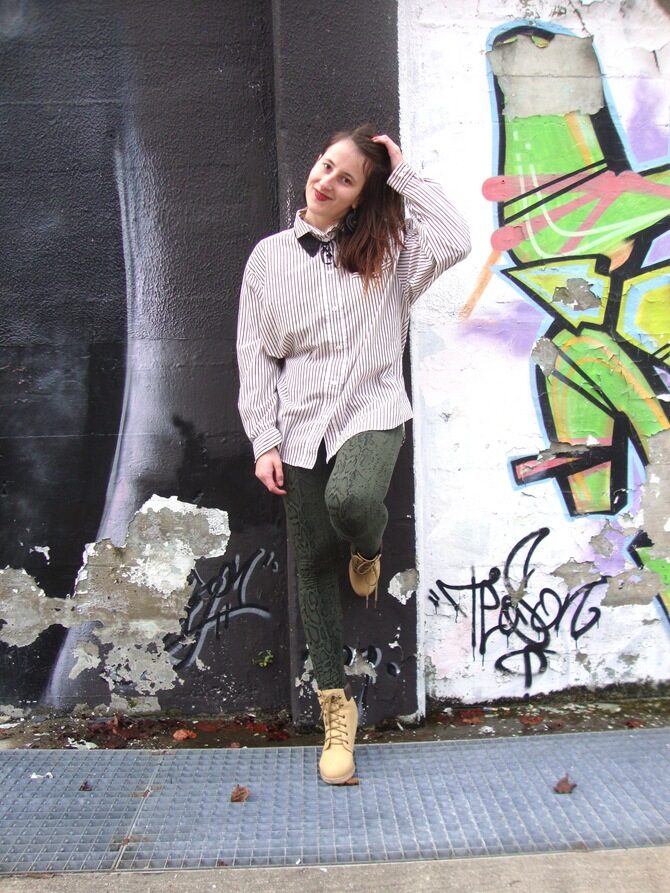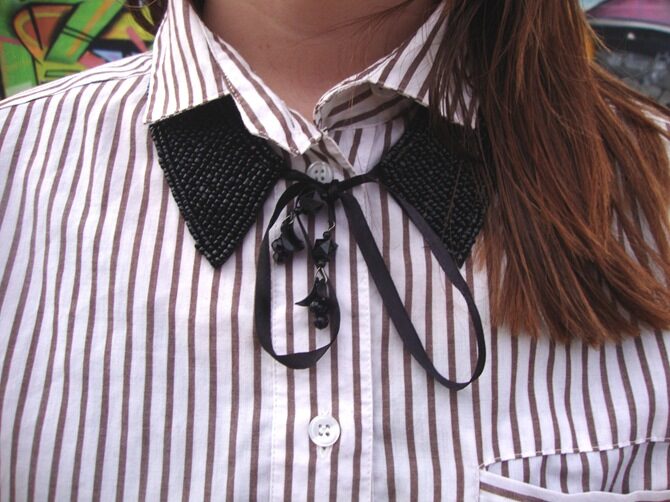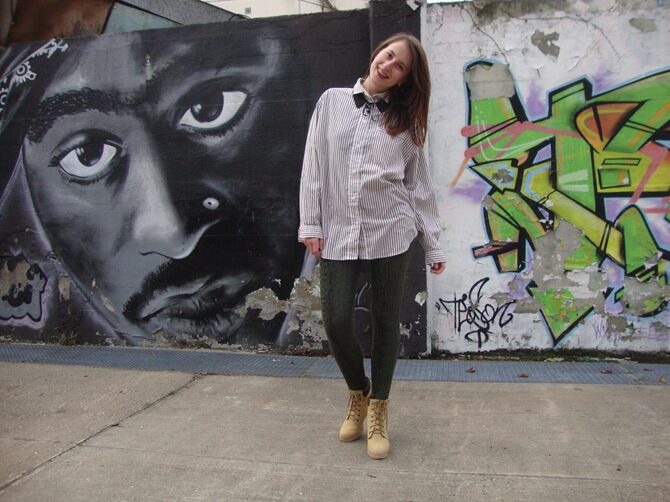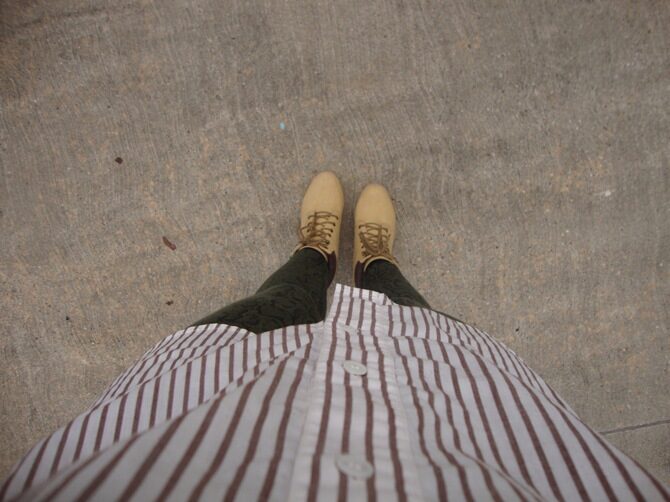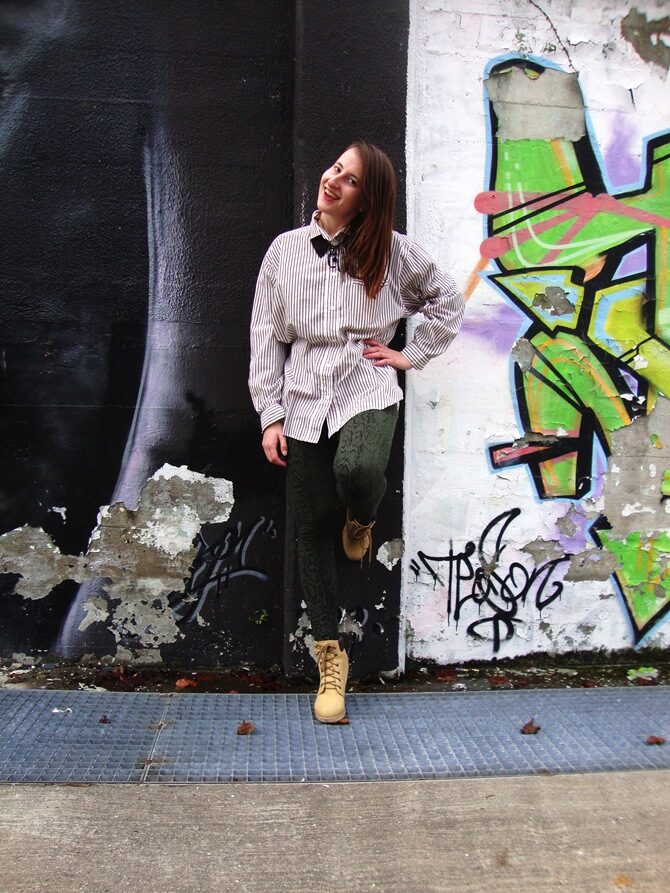 (Secondhand shirt [got it from Ana], secondhand beaded collar [got it from reader Kaja], Taily Weijl heeled timberlands; New Yorker leggings) (Srajca iz druge roke [iz Anine]; ovratnik iz perlic iz druge roke [od bralke Kaje], Taily Weijl piščančki s peto; New Yorker pajkice)
With Love,