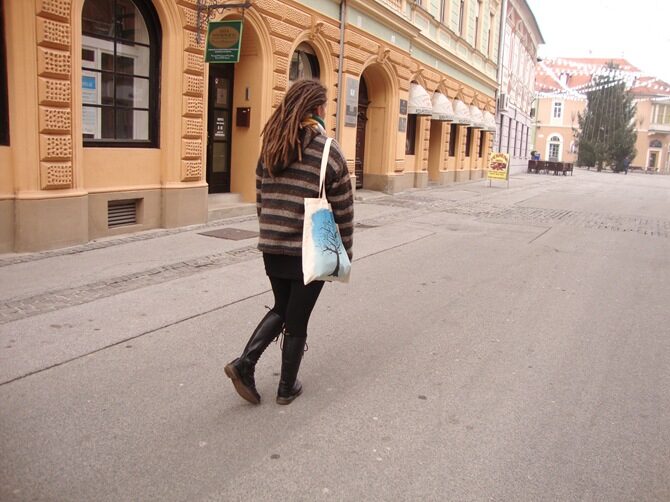 This gorgeous girl with dreadlocks is Maja. She is wearing 3 Ptice tree tote bag (handpainted by me). I took these shots of her back in December on the streets of Ptuj (the oldest town in Slovenia, people!). Maja works in my favourite cafe in town. I don't know what it is, but there is something really special about her. Maybe her natural beauty or wisdom in her eyes…Or the sense of the awareness shining from her…
I don't know about you, but when I see cool people I have never seen before I send the message to the Universe 'Ooh, she seems so cool/smart/interesting, I want to know her.' And it happens, sooner or later! It was so with Maja, as you could predict (: And she even fell in love with this tree tote I painted and she bought it! Thanks Universe! And thanks to Maja for appreciating my work!
If you own a piece from 3 Ptice (you can order it, if you don't;) ask a friend to take a few pics and send them to me at anita.puksic@gmail.com. I can't wait to see them! And one day, out of blue, you'll see yourself at Life.Style.Fun.! ((:
* * *
Tole čudovito dekle z dredi je Maja. Pofotkala sem jo v Decembru, na ptujskih ulicah. Maja dela v meni najljubši kavarni v mestu. Ne vem kaj je to, ampak na njej je nekaj res posebnega. Morda njena naravna lepota ali modrost v njenih očeh… Zavestnost, ki sije od nje…
Ne vem za vas, ampak ko jaz prvič vidim koga res kul, pošljem v Vesolje sporočilo 'Ta oseba zgleda res kul/pametna/zanimiva, rada bi jo spoznala.' In potem se tole slej ko prej zgodi. Tako je bilo tudi z Majo, pravilno predvidevate. In da je stvar še boljša, se je zaljubila v tole totico z drevesom, ki sem jo jaz ročno poslikala, in jo kupila! Hvala, Vesolje! In hvala Maji, da ceni moje delo!
Če imate kakšen 3 Ptice unikatni izdelek (če ne, pa ga naročite;), prosite prijatelja, da vas pofotografira. Fotke pošljite na anita.puksic@gmail.com, jih bom zelo zelo vesela! In en dan, tako iznenada, se boste našli na Life.Style.Fun.((:
With Love,