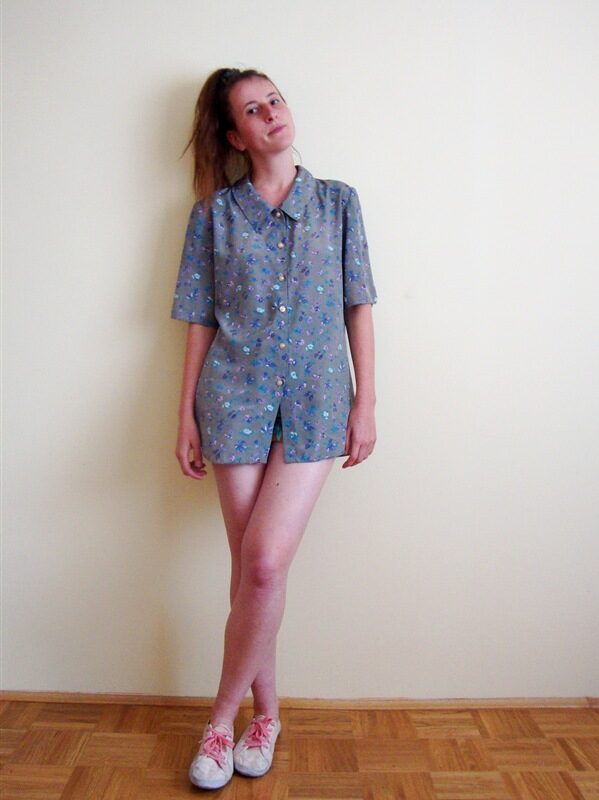 Vintage Coollection
Sometimes I don't know what to do. Sometimes I don't know where I should start writing. Where to start, so that I could make a better sense of what's going on in my life, what's going on on the planet, what's going on in me. Sometimes I love people. Sometimes I just want to run and hide. How is it possible, that sometimes I feel that everything is in order, that everything is running smoothly, that everything is just perfect as it is, that I want to hug everyone and everything on this planet… and then the next day, things start to fall apart. Is it just exchange of sintropy and entropy? How to have a tolerance for chaos?
Tolerance for chaos. This is something that I think about lately. I think is very necessary skill to have to cope with everyday life. I see, that no matter what I do, no matter how good my energy at the start, there comes a point of chaos. Where I don't know, should I try more or rather just leave everything as it is and quit. It's kinda the same like with cleaning the house. If you haven't cleaned the house for some time and feel the rush of inspiration at some point and go into action… there comes the point, where everything is everywhere, when the mess is even bigger than one you started with. Then I feel like everything is taking too much time. I start to wonder. Am I really here in this body, in this life of mine, to cope with these things? With all this chaos in flat, in relationships, in work.
I've been thinking about this for at least 10 years now. How to get okay with everyday life? You know, all these things you have to do on almost daily basis. Thinking of food, washing clothes, paperwork, dealing with people who want something from you, compromises, making money.
I think joy is the key here. To find joy in these little things. To find joy in these activities. To find joy in dealing with people. To see what's good in them… And to accept that you are just a human, when you cannot feel joy in those tasks.
I was born in a society, that criticizes a lot. I read somewhere, that after one negative critic we hear about ourselves as a child, it takes 10 compliments before we start to feel okay and worthy again. And if we are honest with ourselves, almost all of us adults are still children on some levels. Most of the things that are running in back of our mind are the things we heard again and again before we were six years old.
"Don't do this, something will happen to you, you are always so clumsy, you forget everything I say to you, you cannot trust people, you are selfish, what will other people think?"
I am mostly in contact with people who are amazing, who are leaders in a good meaning of the word, but they are afraid to lead. And I am the same. What will other people think, if I say what I really think? And funny, often I think really good things, but I am afraid to tell them. I easier tell them one on one, on four eyes. But if there are more people around, what if they will think that I just flatter them, because I might have some shady intentions? Funny, ain't?
I know my family tried their best to prepare me for life. With criticizing me, when I did something wrong, so that I would do it better next time. With telling me, that I cannot change the world, so that I could avoid disappointment. They worried what other people think, and I learned this is important, because if other people think bad of you, they wont help you when you are in need. They tried their best to be normal, because if you stand out, you get on someones nerves. They always tried to avoid arguments, because being neutral means survival. I am grateful for those lessons, but the question arise: were they preparing me for the real world, or were they preparing me for the world they think is real? And what is real anyway?
Today I'm not the same as I was yesterday and tomorrow I won't be the same as I am today. Today's real will seem a lie tomorrow. And how can I demand consistency from the world, when I am different person everyday as well? Maybe the thing is just in accepting that everything changes and so do I. And maybe the thing isn't in finding yourself and sticking with it to be true to yourself. Maybe I am the most true to myself, when I allow myself that I don't have to always be true to myself. That I can change. And if I am one day lover and the next day bitch, maybe that's both real me and maybe none of it is real me.
Chaos. Tolerance for chaos. Order from chaos. Chaos from order. Entropy, sintropy, inhale, exhale.
And I am thinking now, should I post this? It's chaotic and I don't know if people will see any point in it… But that's who I am today. Or who I was in the moment of writing. And that was my current truth and I needed to express it out of me. And maybe I am all different now already. .. Kiss!
With Love,