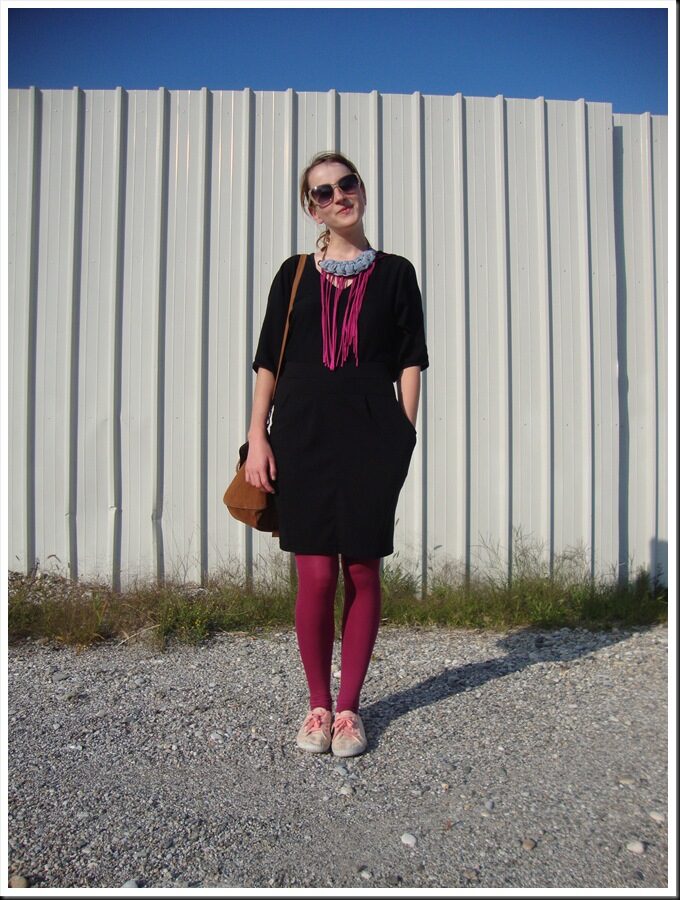 Zdravo, folk! Kako ste kaj? Malo sem si oddahnila od bloganja, saj nisem imela kaj prida potrebe po izražanju. Sem bila bolj v stanju sprejemanja idej in polnjenja baterij. Ampak zdaj čutim svež veter v mojih jadrih in pripravljenost na nove zmage 😉
Vem, da moja torbica ne paše ravno k outfitu, ampak zjutraj tega dne (tole sem imela oblečeno v torek, da veste;), sem imela preko oblečeno še kimono jopo in je vse super izgledalo. Zakaj pa to sploh pišem? Neskladna oblačilna oprava ni še nikogar ubila, lahko celo osreči "nasprotnike", zakaj bi potem sploh morala biti čisto polikana? 😉
Kako vam je všeč verižica? DIY, seveda. Naredila sem jo iz starih hlač in majice. Če jo hočete, si jo lahko ogledate tukaj in mi potem hitro pošljite e-mail ;).
No, ko sem že ravno pri prodaji… Na mojbutik.si imam svoj profil, kjer lahko dobite kakšno kulsko rabljeno oblačilce po ugodni ceni. Tako da poglejte. Bom sčasoma dodala še več jesensko zimskih kosov.
* * *
Hello guys! How are you? I took a little break from the blogging, as I didn't really felt like expressing myself that much. I was somehow in state of accumulating ideas, charging my batteries. But now I feel the fresh wind in my sails and I am ready for new victories 😉
I know my bag doesn't really match the outfit, but I had my kimono jacket on in the morning of that day (outfit is from Tuesday, just to let you know;) and everything looked well together. But why do I even write this? Mismatched outfit never killed anybody and it also can make haters happy, so why looking too polished anyway? 😉
How do you like my necklace? It's DIY, of course. Made of old pants and old tee. If you like it, you can get it. It's for sale in my etsy shop.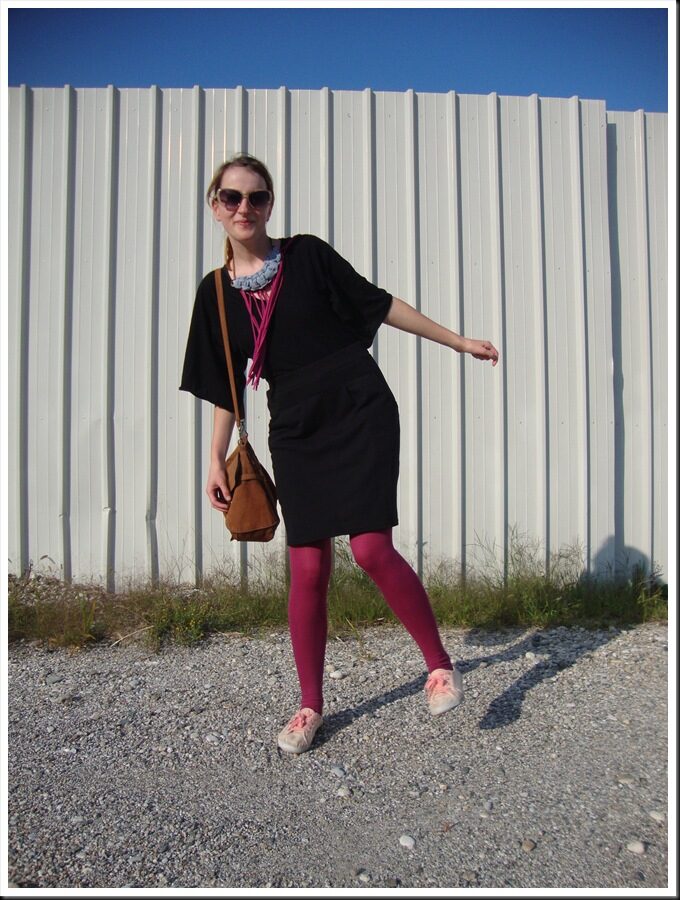 (DIY verižica; majica iz druge roke; C&A krilo; New Yorker torbica; Pascarel hlačne nogavice; H&M šuhice) (DIY necklace; secondhand top; C&A skirt; New Yorker bag; Pascarel tights; H&M shoes)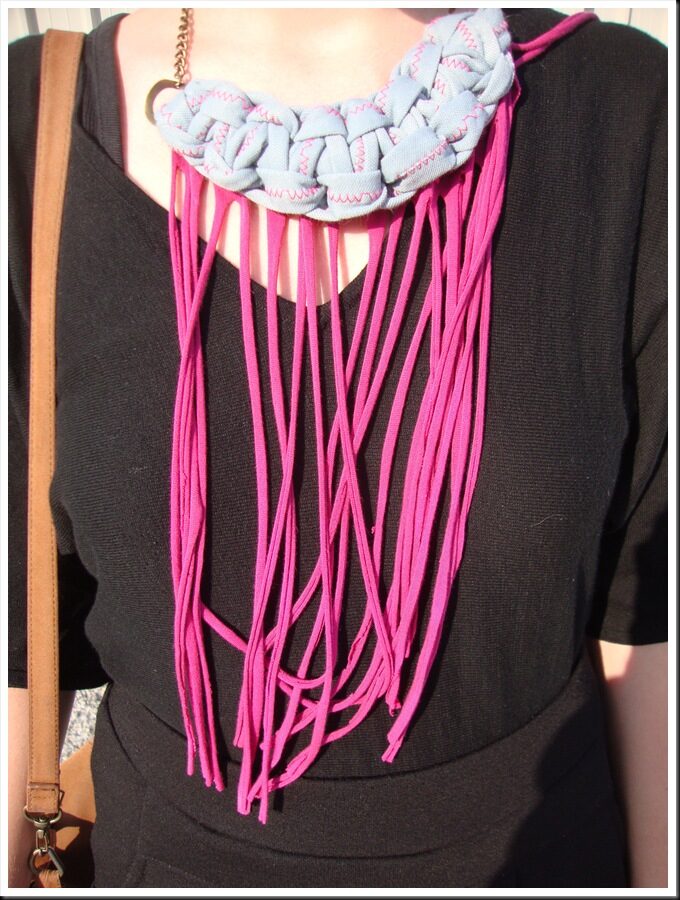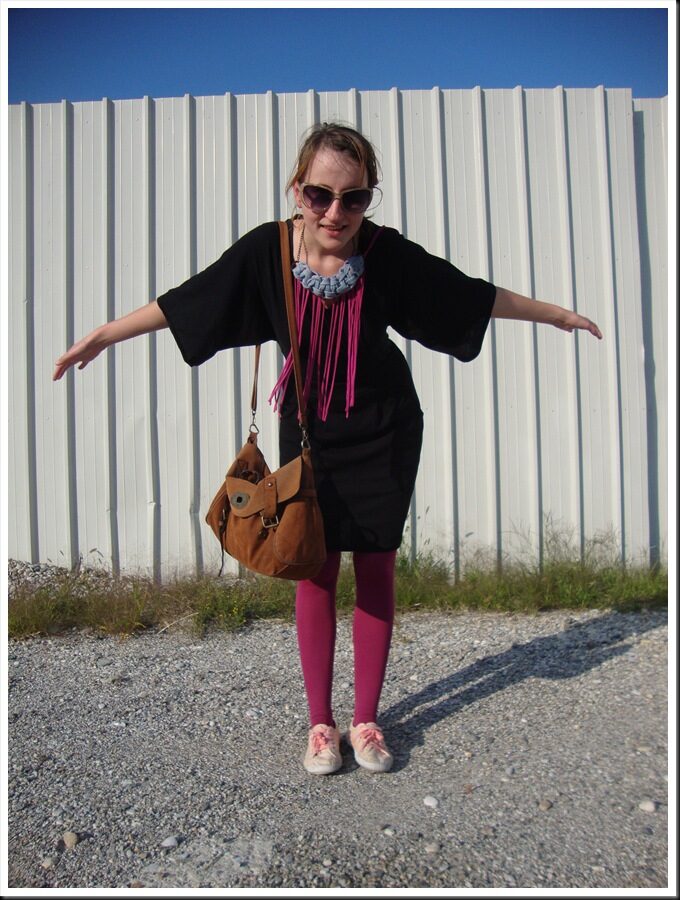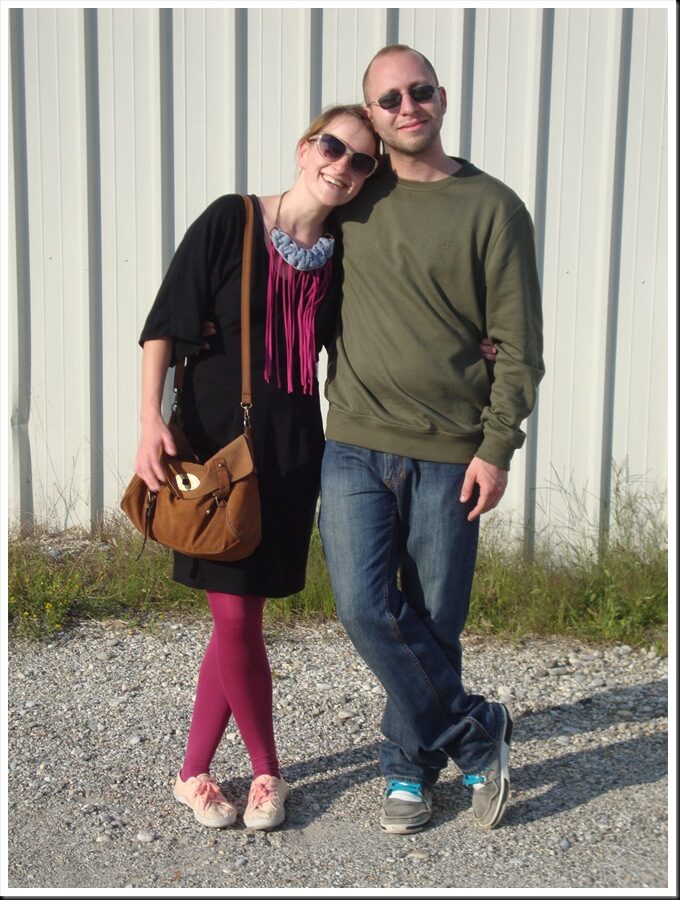 (All pictures taken by Jure Koren, except the last one taken by Samo Perme)
With Love,