Pozdravljeni!
Toliko stvari hočem početi. Moja glava je tako polna idej. Na žalost ne morem vseh uresničiti, ker me vedno zmoti še več idej. Bog. Želim si, da bi vsi zdolgočaseni ljudje lahko darovali svoj čas meni. Ne bi bilo to super? O toliko temah si želim pisati, toliko vsega bi rada naslikala, toliko različnih tehnik in materialov obstaja in vse se zdi tako zanimivo, toliko oblačil bi rada predelala… Včasih ne počnem nič, ker se ne morem odločiti, kaj bi bilo najbolje početi. Jezus. Moram si narediti načrt ali pa nekaj. Zelo sem kreativna, ampak nisem uspešna, verjetno zato, ker se ne znam osredotočit na eno stvar. Za to krivim moje zodiakalno znamenje, dvojček sem. Hah.
Kakorkoli. Tule sta moji zadnji dve sliki:
Hey guys!
There are so many things that I want to do. My head is so full of ideas. Unfornately I can't realize everything, because I always get distracted with even more ideas. Gosh. I wish that all these people who are bored could give their time to me. Wouldn't that be great? There are so many topics I want to write about, there are so many things I want to paint, there are so many different tecniques and materials and everything seem so interesting, there are so many clothes I want to recycle… Sometimes I don't do anything, because I can't decide what would be the best to do. Jesus. I need to make a plan or something. I'm very creative, but I'm not succesful, probably because I can't focus on one thing. I blame my zodiac sign, I'm gemini. Hah.
Anyway. Here are my last paintings: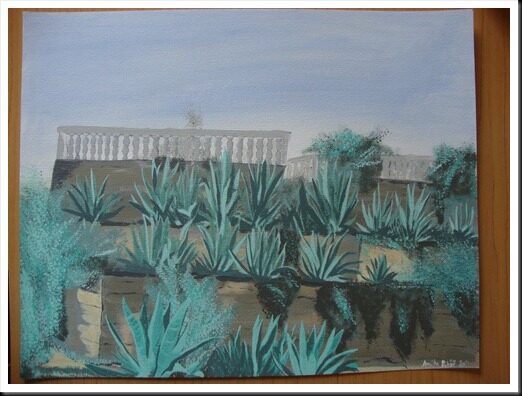 Tale je narejena z akrili na papir za akrile. V živo bolje zgleda, svetlejša je.
This one is made with acrylics on paper for acrylics. It looks better live, it's brighter.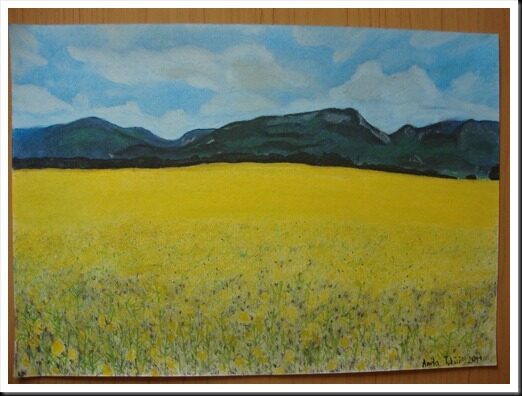 Tale pa je narejena z suhimi pasteli. | | This one is made with soft pastels.
Hvala, da berete, gledate, spremljate… Hvaležna sem za vse, ki se jim zdi tale blog zanimiv (:
O, skoraj sem spet pozabila. Ste videli tole objavo: 20 sarcastic tips to become a popular fashion blogger od Eve na njenem blogu Dressful. Tole je gotovo eden mojih najljubših modnih blogov, če ne celo najljubši.
Thank you for reading, watching, following… I'm thankful for everyone who thinks this blog is interesting (:
Oh, I almost forgot, again. Did you saw this post: 20 sarcastic tips to become a popular fashion blogger from Eva on her blog Dressful. This is definetely one of my favourites fashion blogs, if not even favourite one.
With Love,