This outfit is from the Sunday before last. Maybe I was bad blogger. Busy and all that. But I will try to put more on the blog this week.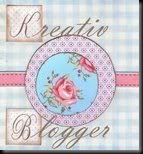 Yes, I got my first bloger's award. I'm so proud! (: I was nominated by Alter muffin and čudna.
Thanks girls! I wish you a lot of comments on your blogs! (:
To accept this award do the following:
1. Thank the person who nominated you for this award.
2. Copy the logo and place it on your blog.
3. Link to the person who nominated you for this award.
4. Name 7 things about yourself that people might find interesting.
5. Nominate 7 Kreative Bloggers.
6. Post links to the 7 blogs you nominate.
7. Leave a comment on each of the blogs letting them know they have been nominated
7 things about me:
1. I have complexes because of my nose sometimes. They aren't so big that I would want to go on operation, but they are big enough to bring down my self-confidence sometimes. Maybe I feel too much like my body is me.
2. I like that sound when you put cigarette into something wet. "Czzz"
3. I'm not obssesed with fashion. I'm not crazy happy when is time of fashion weeks, I don't shop clothes every week. Sometimes I don't buy anything for a whole month. I don't know a lot of models by their names, I rarely check style.com. I don't know a lot designers. But I love to see nice clothes like I love to see nice things and nice people too.
4. I believe in Lennon's Imagine.
5. I adore colours and patterns.
6. I love to talk and hang out with people that see beauty of life. I'm glad that I know so many of them and I'm glad that there exist more and more people like that.
7. I'm thankful because Universe connected me and Jure, I'm thankful for great friends, I'm thankful for good food (spaghetti with tartufata as an example, mjam, mjam), I'm thankful for beauty of the world, for abundance of possibilities,…
Nominiram/I nominate: Inabeena, Street Fancy, Cchaoticc, The Photodiarist, Kolibri, Marian Kihogo, Claradevi and N..
With Love,