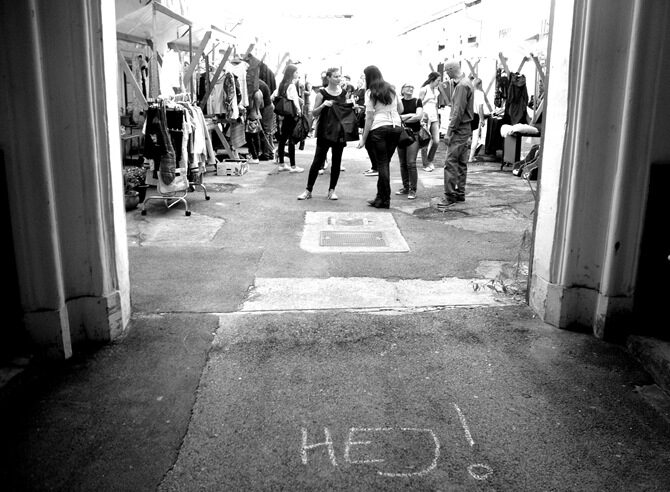 These are pictures from the second secondhand sale in my co-organisation. In the house of Fürst in our little town of Ptuj (the oldest city in Slovenia, btw) That's one of my favourite projects, currently! I said to one awesome gal, if we will make this. She was for it! And that's now our thing. It's great! I meet new people, I am forced to go out of my comfort zone and I do good for other people, nature and I also earn some money when I sell stuff that I no longer wear or use. It's so awesome to see, how happy are people with their purchases, it's awesome, when sellers turns the stuff that no longer serves them into money. It's awesome, when something that no longer fits me or my style, becomes favourite piece of someone else. Meeting new people and exchanging love and money, is there anything better? Dvoriščna razprodaja na Ptuju. Fürstova hiša. Trenutno plac št. 1 na Ptuju za umetnost, kulturo, povezovanje. Eni super punci, Lei Kolednik (na facebooku jo najdete pod Mami Kreativka (vsak bi si želel tako mamo)), sem v začetku poletja predlagala, da bi midve to naredili. Bila je za. In sva. To je bila zdaj že druga dvoriščna razprodaja. Nameravava jo furati enkrat na mesec. Bistvo je v tem, da se stvari, ki nam ležijo po hiši in ki jih več ne uporabljamo, so pa še dovolj dobre, da bi jih želel uporabljat kdo drug, spravijo v obtok. Prodajalci tako nekaj zaslužimo, kupci pa dobijo čudovite stvari, ki so jim pisane na kožo, po super ceni. Zakon je! Spoznavam nove ljudi, grem iz cone udobja (npr. deljenje letakov in vabljenje na prireditev ne kaj preveč zainteresiranih dijakov – čeprav verjamem, da ko se bo zadeva razširila med ljudmi, da bodo začeli prihajat v veliko večjih količinah in kapo dol vsem tistim pogumnim dijakinjam, ki si upajo priti med ne tako poznane ljudi, bravo punce!), delam dobro za naravo in ljudi in mimogrede še nekaj zaslužim, ko prodam stvari, ki mi več ne služijo. Res je zakon, ko vidimo ljudi, kako so srečni svojimi nakupi, zakon je, ko vidim, da so prodajalci zadovoljni. Zakon je, ko postane stvar, ki je jaz več ne uporabljam, ker ne paše na moje telo ali k mojemu stilu, najljubši kos od nekoga drugega. Spoznavanje novih ljudi in izmenjava ljubezni ter denarja, je še kaj boljšega?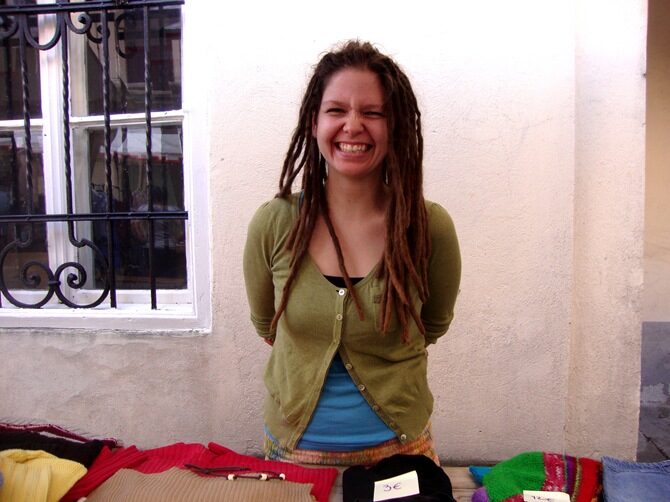 Remember her? Se je spomnite?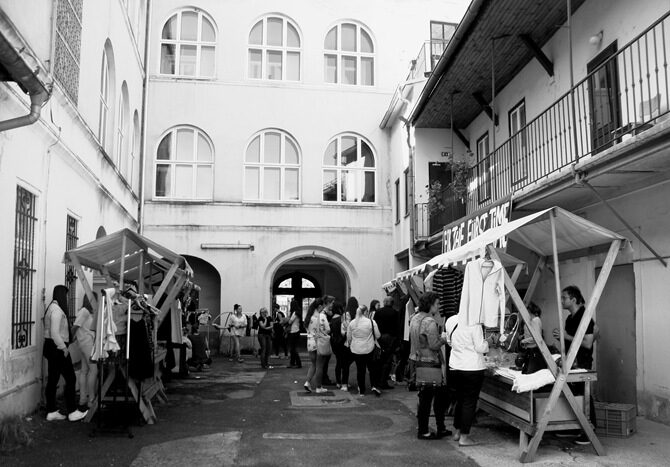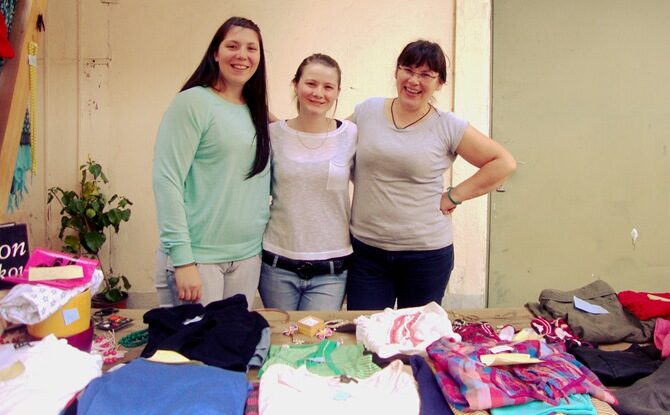 La grande familia. This mum, Natalija (on right) makes awesome mosaics, btw. | | La grande familia. Mama od teh punc, Natalija (na desni) dela čudovite mozaike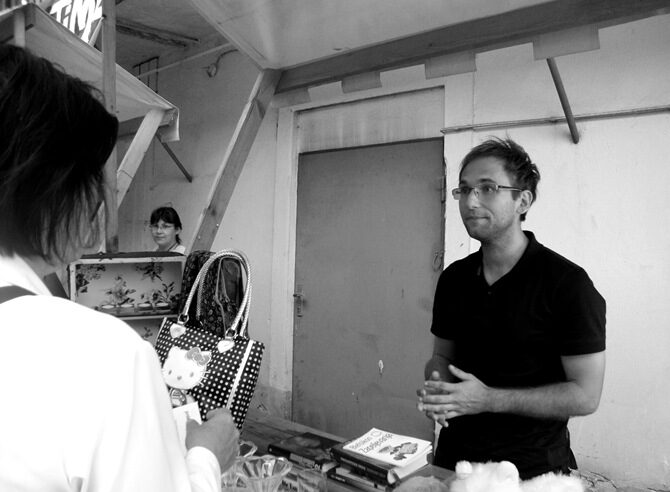 Predstavnik Centra ponovne uporabe (pred kratkim se je odprl tudi na Ptuju, jaz sem že ulovila en čudovit klobuk)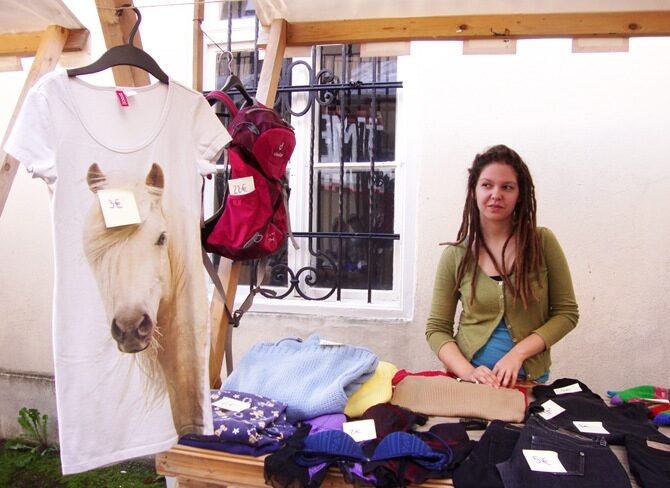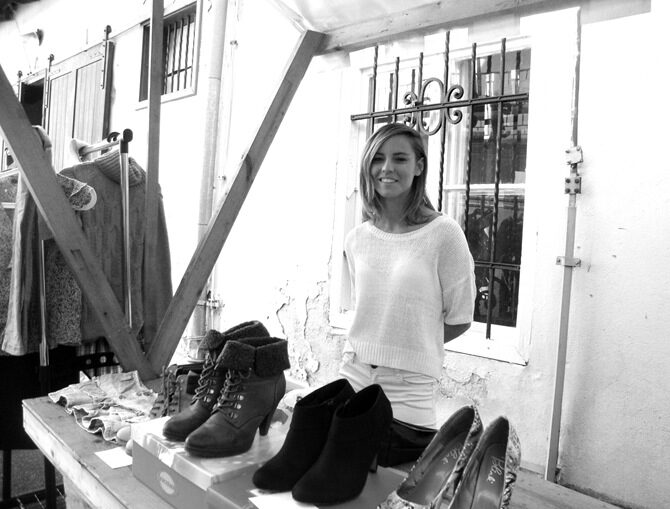 Stylish gal selling stylish stuff! | | Stylish punca, ki prodaja stylish stvari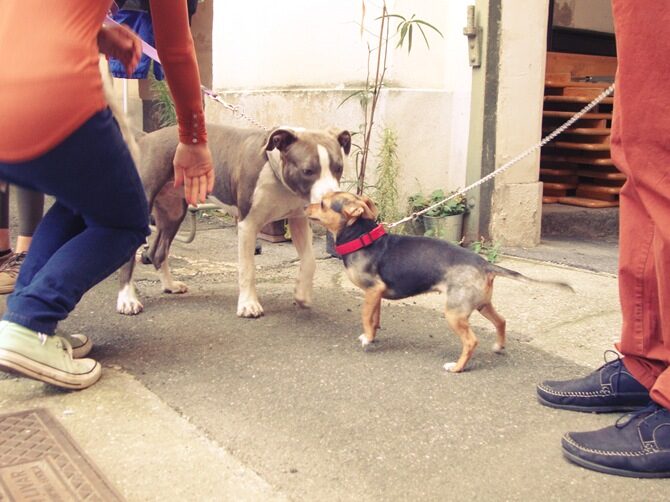 What would life be without dogs? Don't wanna imagine that | | Kakšno pa bi bilo življenje brez psov? Ne želim si predstavljat.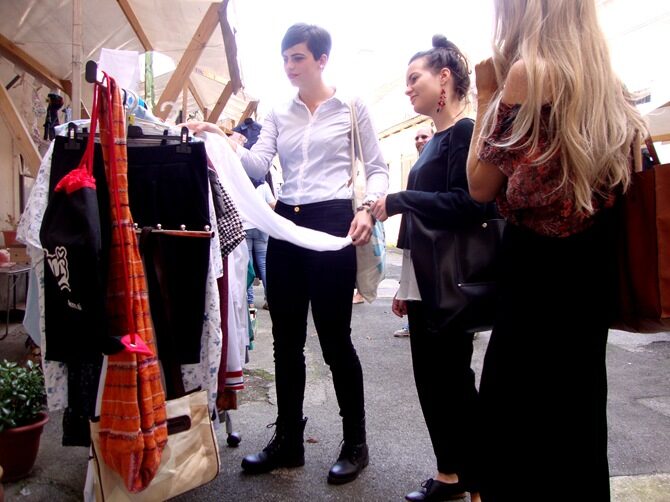 Young, smart and beautiful! | | Mlade, pametne in lepe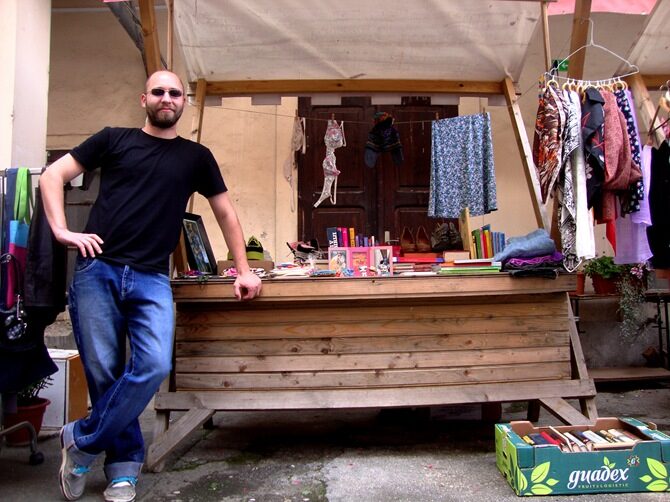 Mr. Boyfriend, came to check if I need anything. He is the best! | | Jure <3 Prišel pogledat, če kaj potrebujem. Najboljši je!
I and my thangs! | | Jaz in moja stojnica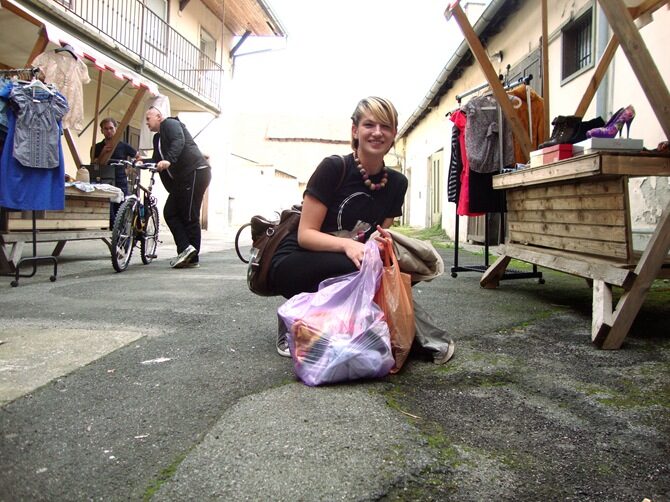 Happy customer with bags full of clothes for her nephews | | Zadovoljna Janja z vrečkami polnih oblačil za njene nečake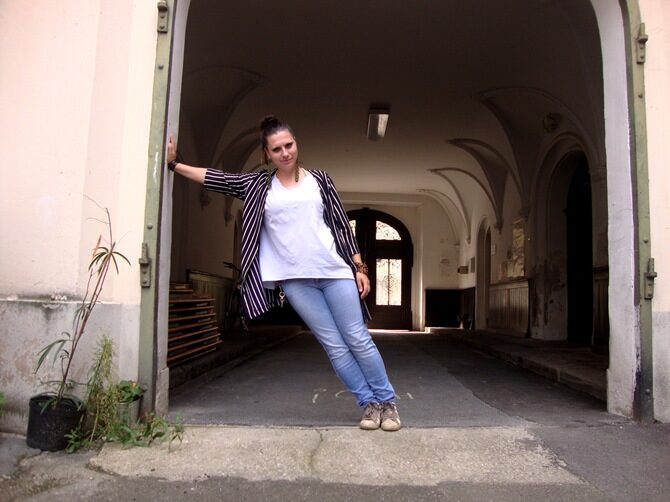 This awesome gal, Lea, co-organisator, with her new (someone else's old) cardigan, that suits her like it was custom made for her only | | Ta čudovita punca, Lea, soorganizatorka, s svojo novo (od nekoga staro) jopo, ki se ji prilega, kot da je bila narejena samo za njo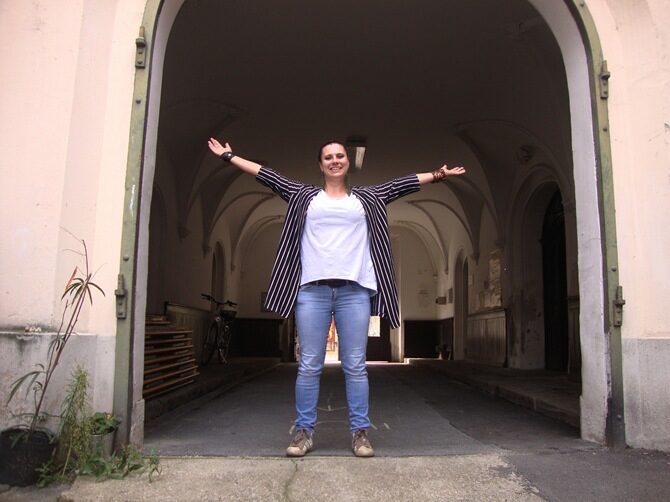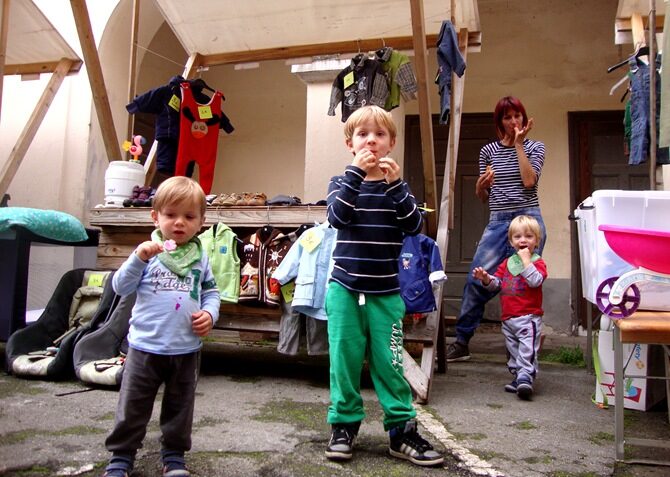 Sweet tooth (bio lollypops, good for health, no worries people) | | Sladkosnedi (bio lizike, dobre za zdravje, brez skrbi, folk)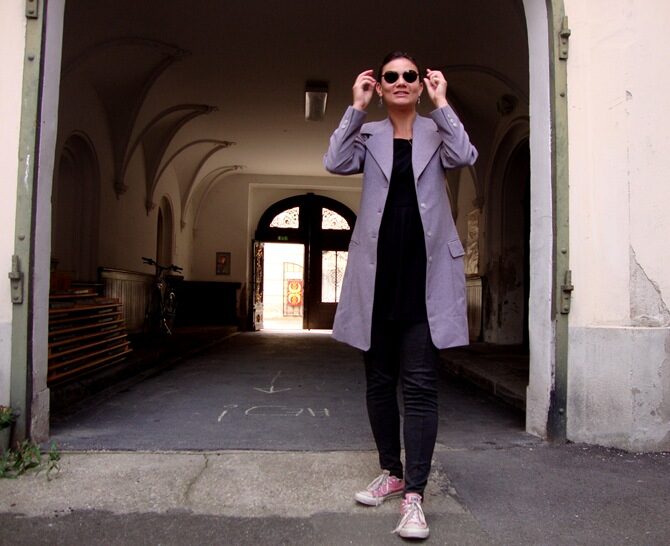 Sara, total badass in her new light coat. In the evening she said she can't get over her best spent money in last few months. Me happy | | Sara, totalna kulerka v svojem novem suknjiču. Zvečer mi je napisala, da je še kar pod vtisom najbolje zapravljenih evrov v zadnjih mesecih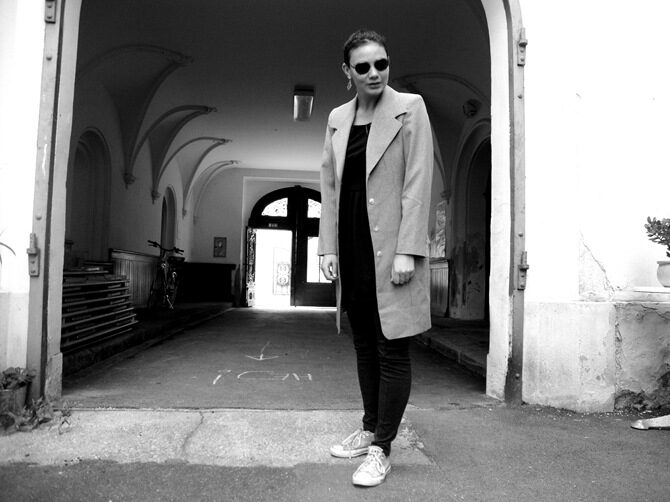 Secondhand sales are awesome for young parents! | | Stvari iz druge roke so super izbira za mlade starše!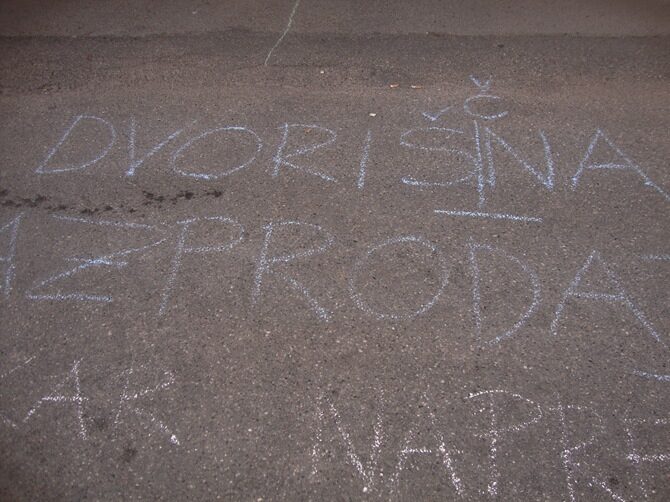 Typo. | | Se zgodi.
With Love,