Ni ti treba bit zasvojen(a) z nakupovanjem, da lahko vzdržuješ blog o svojem stilu. Tele hlače sem kupila pred kakšnim mescem in pol. Ko sem jih novembra prvič zagledala v Zari, sem se zaljubila na prvi pogled. Kako neumno se to sliši? 😀 Stale so 30€. Ampak s tem denarjem lahko plačam položnico za internet in hišni telefon. Ko so se januarja začele razprodaje, sem šla v Zaro pogledat, če so jih že znižali na 10€ (odločila sem se, da jih raje nimam, kot da plačam več). Niso, 20€ so stale. Spet sem šla pogledat čez kakšen teden… tam so bile.. 9.99€, jupi! Pogosto jih imam oblečene, zelo mi je namreč všeč, kako jih čutim na koži (tak fajn je, da je topleje in ni treba nosit hlačnih nogavic pod hlačami). Nekje v začetku februarja sem si kupila tudi pajkice s flikami na kolenih. Preden sem kupila to dvoje, si nisem privoščila ničesar za obleči že od avgustovskih razprodaj. Kaj je moj trik? Vintage oblačila in oblačila iz druge roke, ki jih najdem v naši in v hiši od babice. In DIY, ki pa ga trenutno zanemarjam.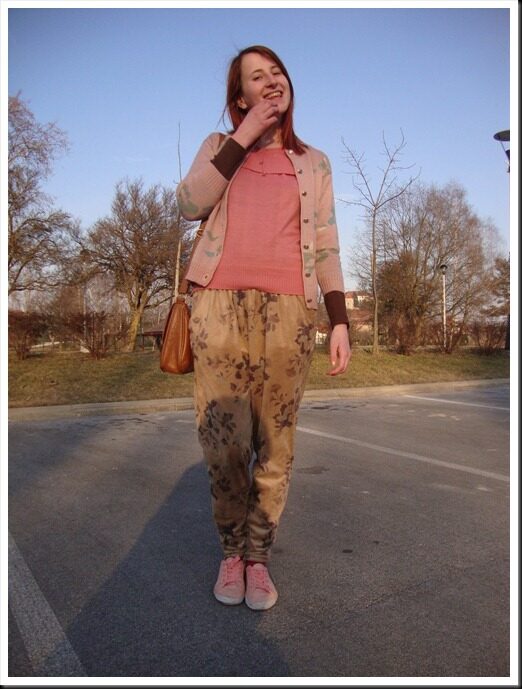 You don't need to be a shopping addict, to have a style blog. I bought these pants about a month and half ago. When I first saw them in Zara, in November, it was a love at the first sight. How stupid that sounds? 😀 And they cost 30€. But with 30€ I can pay a bill for the internet connection and phone. When sales started in January, I went in Zara to check if they already cost 10€ (I decided I rather don't have them then pay more). They didn't, 20€ was the price. I went again after a week or so… there they were.. 9.99€, yeah! I wear them a lot, I really like how I feel them on my skin (it's so fine that is warmer and there's no need for tights undearneath pants). Also, somewhere in the start of February I bought those leggings (jeggings, hah) with patches. Before I bought these pants and leggings I didn't buy myself nothing to wear since sales in August. What's my trick? Vintage and secondhand I find in our and grandma's house. And DIY but I neglect it at the time.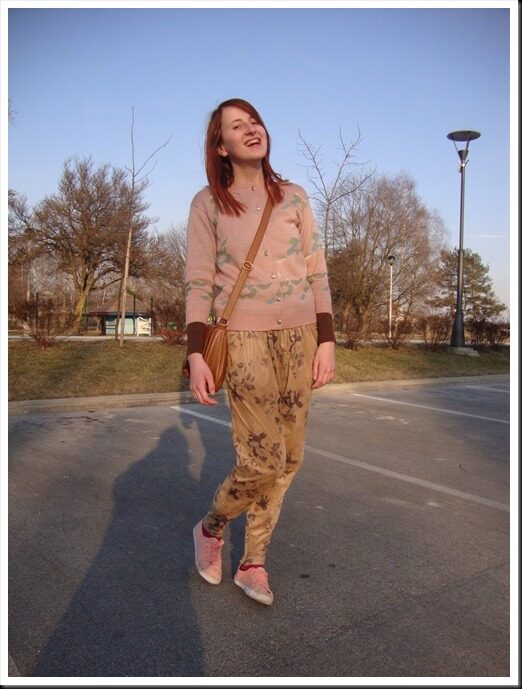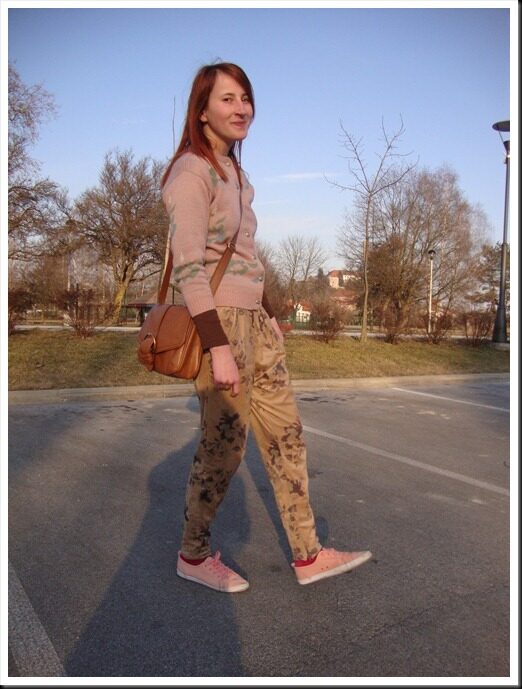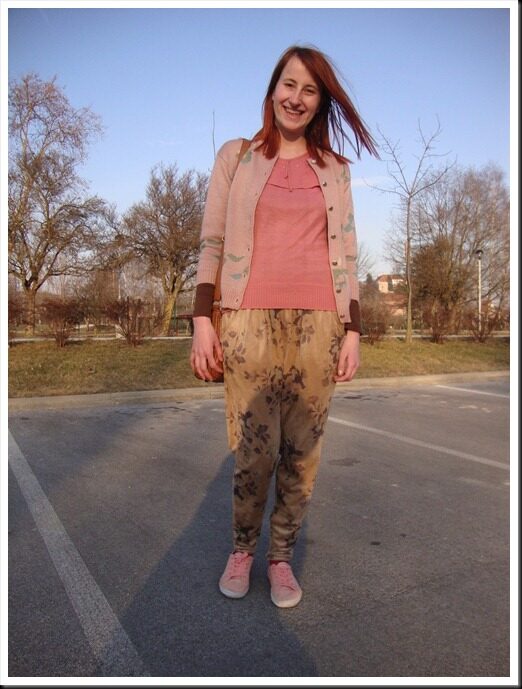 (Vintage jopa in majica; Zara hlače; Tally Weijl rjava majica; H&M torbica in čevlji) (Vintage cardigan and top; Zara pants; Tally Weijl brown shirt; H&M bag and shoes)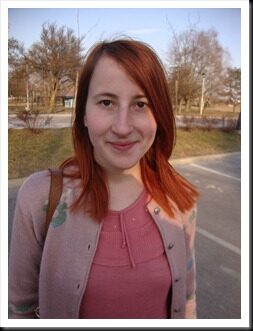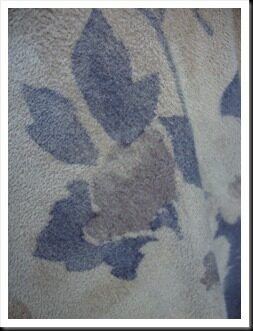 PS: Za vse ki še ne veste: dobili smo slovenski blog o ulični modi! Juhu! (: PS: In Slovenia we finally got a streetstyle blog, yeeha!
With Love,