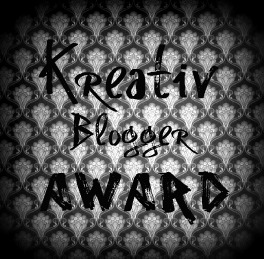 Končno je prišel čas, da napišem deset stvari o sebi, saj odlašam s tem že več kot mesec dni. Od meni zelo ljube Nine (What are you looking at?) sem dobila Kreativ blogger award.
Pravila: Napiši deset dejstev o sebi in podaj nagrado naprej desetim blogerjem.
Bom kar začela in upam, da boste uživali v branju.
1. Hitro si lahko premislim. Dobro, ponavadi ne tako hitro, a včasih se zgodi, da sem glede kakšne teme čisto prepričana v svoje mnenje in da je to celo najboljše od vseh in ljudem predstavljam svoj pogled na temo vse dokler ga ne vzamejo za svojega. In potem spremenim mnenje. Okay, sedaj nisem čisto prepričana, če je to resnično dejstvo o meni, saj se trenutno spomnim le ene teme, pri kateri sem se obnašala se obnašam na ta način. Ampak ja, znam biti manipulativna. Ljudi lahko na premeteno pripravim do tega, da se slabo počutijo. Jure je ponavadi ta revež. Po drugi strani lahko ljudi spravim v odlično razpoloženje. Nisem prepričana, če je to tudi manipulacija. Saj govorim dejstva! 😀
2. Včasih nisem prepričana, če sem vesela, da sem naredila ta blog bolj javen. Nekoč sem namreč lahko tukaj pisala o vsem sranju v meni (in zunaj), brez strahu, da bi kdo, ki-bolje-da-ne-prebere, prebral. In včasih imam občutek, kot da sploh več nimam pravega sloga pisanja. Nisem gotova. Morda je to samo še ena težava s samospoštovanjem.
Po drugi strani sem vesela, da več ljudi ve za moj blog. Res me osreči in mi polepša dan, kadar mi kdo pove, da bere moj blog in da mu je všeč ali celo, da ga navdihuje!
3. Ponavadi ne najdem kaj dosti motivacije v porazu ali v tem, da mi ljudje rečejo, da nisem dovolj dobra. Zato, ker se mi dogaja, da jim verjamem. (Jap, ta ubogi mali otrok v meni, haha!) Dosti bolj sem motovirana za početje dobrih in lepih stvari, če mi ljudje povejo, da sem res dobra v čem.
4. Ko sem bila mlajša, sem želela biti intelektualka. Spomnim se, da sva z prijateljico hodile po cesti v naši vasi, ko sva bili stari kakšnih 11 ali 12 let. Spraševali sva se, kaj pomeni intelektualec. Kaj če sva intelektualki, pa tega sploh ne veva, ker ne poznama pomena besede?
Haha. Leta pozneje sem ugotovila, da to ni ravno najboljši cilj zame. Raje bi bila v spominu ljudi kot oseba, ki jih je spravila v dobro voljo, kot oseba, ki jim je dokazala svoj prav. Čeprav je težko priti iz 'jaz imam prav' navade ega. Skoraj vsi imamo probleme s tem, a ne da?
5. En mojih največjih navdihov so intervjuji. Berem vse vrste teh. Včasih celo berem intervjuje z glasbeniki, ki mi grejo na živce. Ponavadi ugotovim, da niso tako slabi, da so nekateri celo pametni. Samo pač delajo bedne komade. Po mojem mnenju.
Ste brali Pogovore z Bogom? Moji najljubši intervjuji. Vam priporočam. In brez skrbi, niso napisani s katoliškega (naša Resnica je edina resnična) zornega kota.
Upam, da bo nekdo nekoč naredil z menoj dolg intervju, ki bo navdihnil bralce, da naredijo kaj dobrega, lepega in da živijo življenje na polno.
Okay, odločila sem se, da bom to blogersko nagrado objavila v dveh delih.
Hvala, da me berete!
It's finally a time that I write ten things about me as I am resisting it over a month now. I got that kreativ blogger award from my dear girl Nina from What are you looking at.
Rules: write 10 facts about yourself and pass the award to another 10 bloggers.
Let's start and I hope you will enjoy reading these facts about me.
1. I can change my mind in a no time. Okay, usually not that fast, but sometimes happens, that I am totally sure about some topic and even sure my opinion is the most right of all and I convince people about it until they make my opinion for their own and then I change my mind about the topic. Okay, I am not sure right now if this is a real fact about me, because I can right now remember only one topic where I did am I doing that. But yes, I can be manipulative. I can make people feel bad in a very smart way. Jure is usually that poor guy. On the other hand I can make people feel really good. Not sure if that's also a manipulation. Because I am telling them the facts! 😀
2. Sometimes I am not sure if I am happy that I turned this blog to more public oriented. Because in old times I could write here about all the shit that's inside (and outside) me, without fear that someone who better not read it would read it. And sometimes I feel like I have no real writing style anymore. Not sure. Maybe that's just another self-esteem problem.
On the other hand I'm glad that more people know about my blog. I am really happy and it makes my day, when people tells me that they read my blog and that they like it or that I even inspire them!
3. I am usually not motivated by failure or people who telling me I'm not good enough. Because it happens that I believe them. (Yeah, that poor little kid in me, haha!) I am far more motivated to do good and nice things if people tell me that I am great at something.
4. I have wanted to be an intellectual when I was younger. I remember me an my friend Maja walking down the road in our village when we were about 11 or 12. We were wondering what does the intellectual mean. What if we are intellectuals, but we don't know it, 'cause we don't know what's the meaning of the word?
Haha. Years later I figure out, that I don't really care about being intellectual. I would rather be in a memory of people as a person who made them feel good than as the person who prove them her right. Although is hard to get out of this 'I am right' ego habbit. Almost all of us have issues with that, don't we?
5. One of my biggest inspirations are interviews. I read all kinds of those. I sometimes even read interviews with musicians that get on my nerves. I usually figure out, that they aren't that bad, some of them are even smart. They just make shitty music. In my opinion of course.
Did you read Conversations with God? My favourite interviews. I suggest you to read it. And don't worry, it's not written from Catholic (Although is hard to get out of this 'I am right' ego habbit. Almost all of us has issues with that, don't we?) point of view.
I hope someday someone will make a long interview with me, which will inspire readers to do something good, nice and to live they life to the fullest.
Okay, I decided, that there will be two parts of this blogger award.
Dear foreign readers! I hope you understand what I wrote here. Yeah, I'm still not sure about my English knowledge. If you see some mistakes, please let me know! And thanks for reading!
With Love,