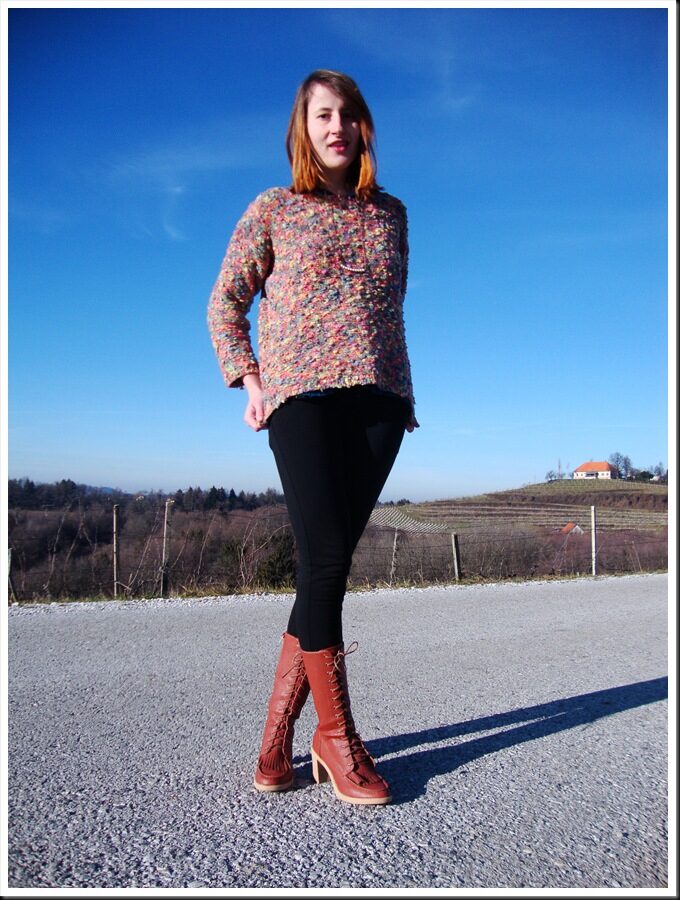 Deklice in dečki, pozdravljeni! Tale outfit še je iz 2012, jah, moja zaobljuba, da bom bolj redno blogala, mi ne uspeva najbolje. No, saj še ni prepozno, še lahko popravim to. Drugač pa mi ena druga zaobljuba precej dobro uspeva. V soboto, ja, to je že bil 5. januar, sem se namreč odločila, da bom šla vsak dan na sprehod. En tak 365 projekt. Za zdravje, harmonijo in inspiracijo, ki jo daje narava. In za veselje mojih psičkov! V bistvu sem šla že vsak dan do zdaj razen petka (pa zato v soboto spontano kar 2x). In moje sprehode lahko zdaj spremljate na instagramu, z vsakega namreč objavim eno fotko. Jap, Anita (govorjenje o sebi v tretji osebi?! Kakšen narcizem) ima po novem instagram. Tisti, ki me spremljate na facebooku in twitterju ste to morda že ugotovili. Konec decembra sem namreč dobila pameten telefon, hehe. Sicer rabljenega, a podarjenemu konju se ne gleda na zobe, in zame je čisto kot nov. Juhej!
No, še ena pomembna novica! Poklikajte na 3 Ptice, kaj ti tam se namreč odvija razprodaja! Kupite kaj, če želite poleg Zare in H&M-a podpirat še kakšnega domačega kapitalista (ahaha).
Danes sem res super volje. Včeraj sem bila bolj slabe, ampak fasterEFT dela čudeže (pa sprehod, mini nabava materiala za ustvarjanje in obisk knjižnice). Počekirajte tole metodo na youtubu. Tip ki jo je iznašel oz. nadgradil navadni EFT, ima zelo zanimive razlage.
Da še delim, kaj se mi je včeraj pripetilo v mestu. Z dedkovim avtom se pripeljem v križišče, pred mano avto. Bremzam. Bremze ne primejo! Kar podzavestno v trenutku potegnem ročno. Malo me zanese, ampak okay, vse v redu. Se peljem dalje po opravkih, pač bremzam z ročno, pa ne tiščim kaj dosti na plin. Po obisku knjižnice se na parkirišču priporočim angelom, da bi varno prišla domov. Se že nekaj časa peljem, pa na cesti zagledam smet. In jo normalno obvozim. Pa mi začne nekaj rožljat pod avtom. "Okay, verjetno je bila to pločevinka, ki se mi je neznano kako prijela nekam na podvozje." Peljem dalje, še vedno rožlja. Če bi bila pločevinka bi jo že moralo vreči ven! Se ustavim in pogledam pod avto. Vidim, da ni ropotala piksna, ampak neka cev od avtomobila! Điz!
Ko pridem domov povem dedku, kaj se je zgodilo in da mi zavore niso prijele, ta mi pa reče, da je on tudi šel zjutraj k sosedovim, "pa sn moga do kunca stisnati, ki je ke prijelo". In on mi tega ni prej povedal! Še sreča, da mi je to lahko smešno, ker če bi se mi kaj zgodilo, mi ne bi bilo. Saj brez skrbi, dedek me ni nameraval ubit, če ste se spraševali, me ima pravzaprav zelo rad. Zato mu tudi zlahka odpustim to pozabljivost.
Aja, danes sem pa super volje tudi zato, ker je moj avtek končno popravljen od tistega karambola v decembru. Zdaj še samo najdem bel odbijač (zadnji, polo, letnik 2000, če ga ima kdo slučajno viška) in počakam na nove tablice, pa je kot da se mu ni nič ni zgodilo. Razen tistih prask, ki mu dodajo šarm.
In vse kar sem mislila povedati je bilo, da imam instagram in razprodajo.
* * *
Folks! I'll spare you stories from my life, I'll just tell ya, that you can now also find me on instagram (I got a secondhand smartphone in the end of December) and there you can follow my 365 project that has started on Saturday. I decided to go for a walk everyday and share a picture from each walk. And other ones too 😀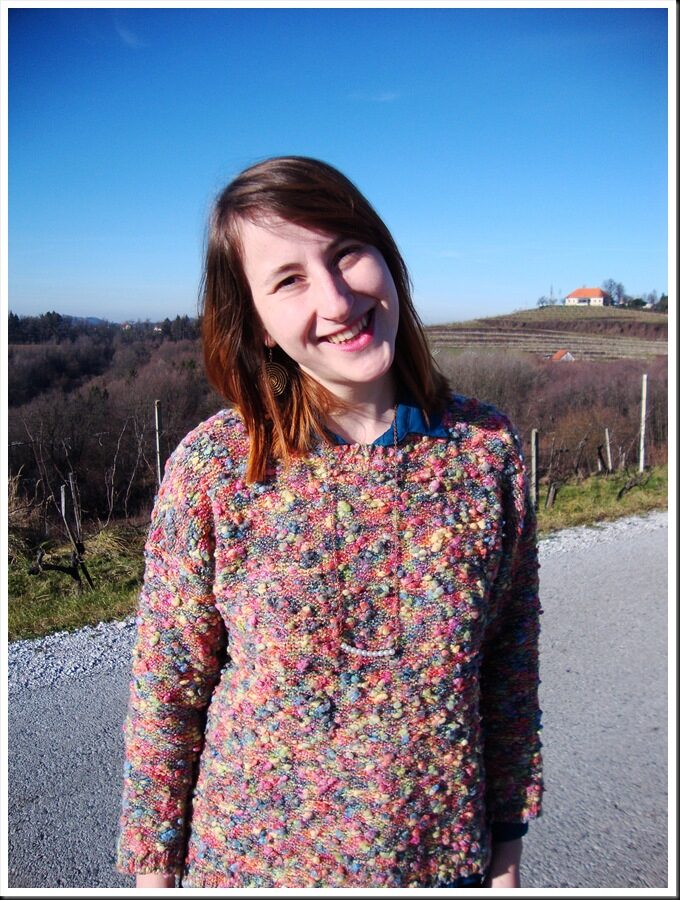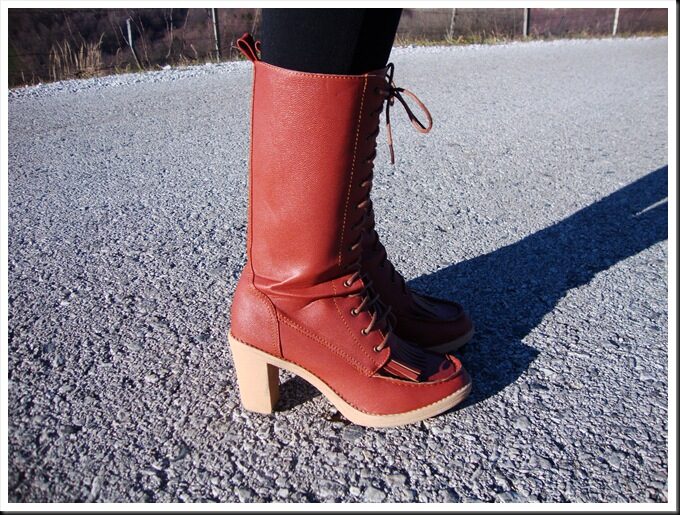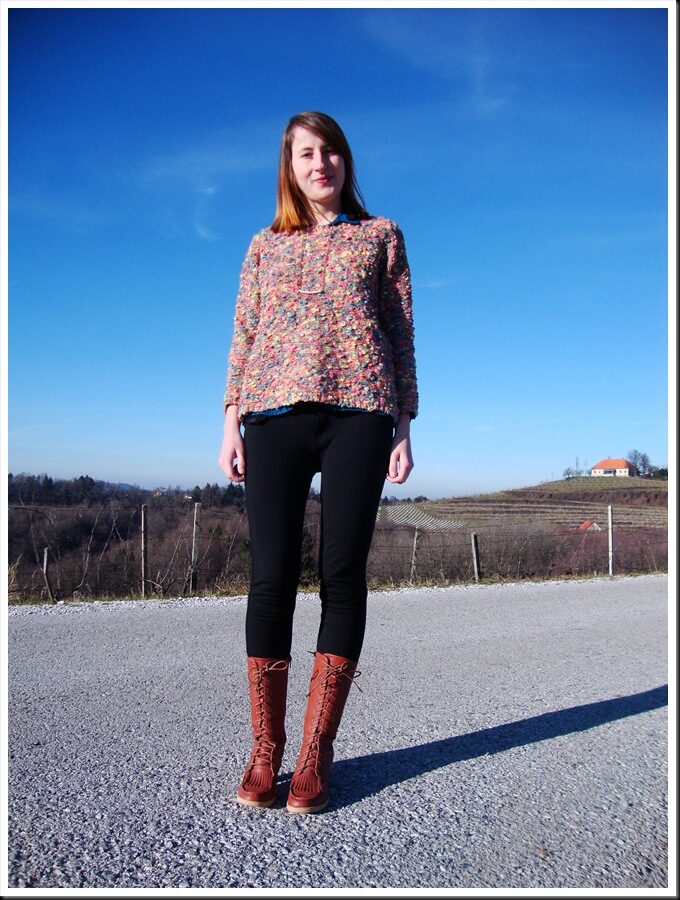 (Secondhand pulover in hlače; vintage srajca; NKD škornji, oh henry! verižica) (Secondhand sweater and pants; vintage shirt; NKD boots; oh henry! necklace)
With Love,