Tako prekleto sem utrujena. Skoraj cel dan sem čistila bajto. Nekoč bom imela majhno hišo. V primeru, da bo velika, bom imela čistilko. Zagotovo. I'm so damn tired now. I was cleaning the house for almost the whole day. I'm going to have a small house one day. In the case that house will be big I will have a cleaning lady. For sure.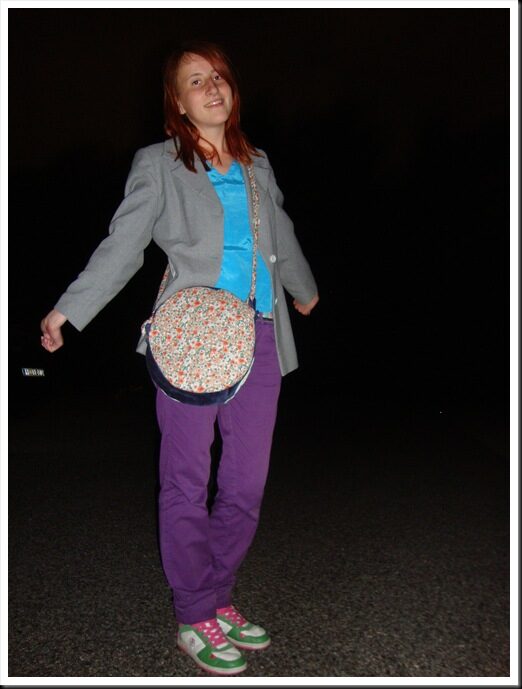 (Vintage blazer in majica; Bershka hlače; DIY torbica; Graceland čevlji) (Vintage blazer and tee; Bershka pants; DIY bag; Graceland shoes) Tale fotka je od petka, ko sem dan preživela v delanju te torbice. Lepa je, ampak ne stoji v redu, ker sem nekaj zmrdala s filcem. Šola za naslednjič. Nisem pro (: Še 😀 That picture was taken last Friday. That day I spent making this bag, it's nice, but it doesn't stands right, because I made a mistake during the process. School for the next time. I'm not a pro (: Yet 😀
(Vintage torbica in obleka; Stradivarius čevlji, trak v laseh H&M) (Vintage bag and dress; Stradivarius flats; H&M headband) Tole obleko sem dobila od mame. Ni mi v redu pristajala, zato sem jo malo preuredila. Se opravičujem za slabo fotko. Bog, tako mi primankuje denarja te dni (in nihče ne kupi ničesar iz moje trgovine, hah), zato vas sprašujem, kaj počnete za denar? Jaz ne vem kaj bi počela. Nočem delati česa z 8 urnim delavnikom. Želim delati nekaj ustvarjalnega, pa ne vem kaj. Imam pomankanje samozavesti glede moje ustvarjalnosti, pa tudi strah pred neuspehom. In ne vem katera ideja je prava. Tako težko je biti intelektualen tip osebe, ker vedno dvomiš. Hočem čutit kaj prava stvar zame, ampak je vedno preveč glasov slabega notranjega jaza v moji glavi. In slabih spominov. In preveč ostalih stvari za delat, kot kuhanje in čiščenje in zapravljanje časa. Ah. Ni lahko biti jaz. Še eno vprašanje: Kako slišite/čutite svoj dobri notranji jaz oz. kako stopite v stik z njim?  In kako ga prenašate v vsakdanjo stresno življenje? Okay, dve vprašanji (: Hvala za branje in odgovore! I got this dress from my mum. It didn't fit me well, so I edited it a little. Sorry for the bad picture. God, I'm so low on money these days (and no one buys a thing from my shop, hah), so I'm asking you, what do you do for money? I don't know what I would do. I don't want to do something with 8 hours schedule. I want to do something creative, but I don't know what. I have lack of self confident about my creativity and I also have fear of failure. And I don't know which idea is right. It's so hard to be intelectual type of person, because you doubt always. I want to feel what's right thing for me, but there is always too much voices of my bad inner self in my head. And bad memories. And too much other things to do like cooking and cleaning and time wasting. Duh. It's not easy to be me. Another question: How you hear/feel your good inner self or what do you do to get in touch with it? And how you can carryng it in everyday stressful life? Okay, two questions (: I hope you understand my French, sorry, English 😉 Thanks for reading and for your answers!
With Love,