Few weeks ago were I, Jure and two friends spending time together in apartment of one of these friends. I had been hungry so I took a walk to McDonalds, where I ordered vegetarian menu for me and some burgers for guys. Then I was walking back to apartment and enjoying the holyday city vibe. I took my camera out of my bag because I was almost besides the wall where was graffit that I wanted to take picture of. I had came through crosswalk, when someone called me. I turned around and there were one woman and one man, asking me if I speak English. "A little" I said and got ready to tell them in which way they had to go. But they didn't ask me for a way. They asked "What do you think about Christmas?" And I told them. And then they were curious if I believe in God. "Yes, I do, but not in religious kind of way." And then we had a long talk about God and about good and bad. They are Christians, but aren't the part of any organisation, because of the bad things institutions have done in the past. I wont write the whole conversation here, just few facts, so you can get the idea what we had talk about.  They believe:
God is absolutely good
God hates bad things
The Truth can not be in contradiction with words of Jesus
Hitler went to hell
Abortion is killing and it's bad
If you took a step in wrong direction it's hard to came back on a right way
God is above us
And what I believe?  I believe that God is everywhere. I don't believe there's a place called hell, but you can create it in your mind. I believe that God doesn't judge. Why would he? If he judges than he judges himself as everything is his creation. I believe that everything can be good or bad, depending on point of view. I believe in free will, so no matter how many bad things you've done, you can decide if your next action will be something that's good for you, other people and planet or not. I believe Jesus was really good and wise, so there I have to agree with them, but during the conversation I saw that some of their beliefs are in contradiction with his words. We were standing on the corner for about half of hour or a little more. Then I went forward down the street and they were waiting for green light on semaphore to cross the road. I think they weren't excited about my beliefs, hah. I came across graffit and took a picture of it and went back to them. I showed them a picture. "The world is as you are" she read out loud. "Yes," I said, "and it's the same with God. If you judge people and think those things are good and those are bad, then you believe that God does the same."  Then I said "Goodbye, have fun!" and walked away. And I heard man said "Logical." (: When I came to apartment french fries was cold and ice cream was like milkshake 😀 I use male form for God, but it really doesn't matter. I hope it doesn't irritate you reading this because of my language mistakes. What do you think about God?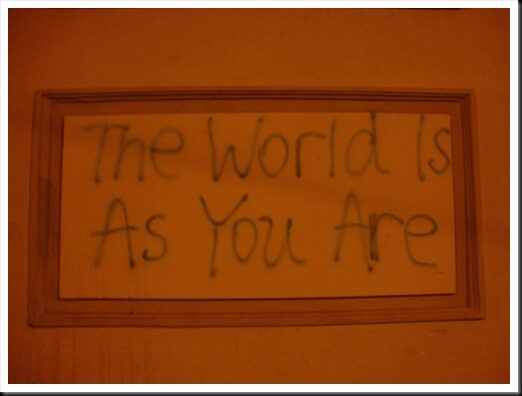 With Love,