Hello, fellas! Do you ever find yourself thinking about how great it would be to be rich, to have zero money worries and where you would spend your money on? I do, of course! I wanna spend it for travelling, growing my eco friendly design bussines, organic food, trips and fun activities with my family and friends, for clothing, accessories and interior design pieces from young designers and one thing I love to think about is how I'm going to be able to help other young talented people which are on they way to make the world the better place with spreading love doing what they love to do!
When I saw the Zulu Zion socks for the first time I wanted them to be a story of success! Colorful and funky? Yes, I'm raising my hands! When I saw the project on Kickstarter I thought I'm gonna back it up once till the end of the month, when I pay my dues and all. I can't help others when I'm the one in a need for the help. I can't give my money away to support someone else's dreams of success, when I don't have money to pay for my dreams of success.
But really? I can't help others, if I'm the one who needs help? If I'm gonna think this way, I'll never be able to help others, because I always need help from others. We are fucking human, we need each other all the time! Okay, not every minute, because we still have to take time for ourselves, but you know what I mean, don't you?
And so I took my mastercard out yesterday and went to the Kickstarter to place my support for Zulu Zion socks, the raddest socks of them all! They are designed by couple of young creatives from Slovenia who are bored with boring socks. And let's face it, now that Zulu Zion socks are out, every other pair of socks looks boooring.

* * *
Pozdrav, prijateljice in prijatelji! Ali kdaj razmišljate o tem, kako super bo, ko boste bogati, brez denarnih skrbi in za kaj boste namenili svoj denar? Jaz ja, seveda! Hočem ga porabit za potovanja, za rast svoje znamke, zdravo hrano, izlete in zabavne aktivnosti z družino in prijatelji, za oblačila, dodatke in dodatke za dom od mladih oblikovalcev…In ena stvar, o kateri zelo rada razmišljam je, kako bom lahko pomagala drugim mladim kreativcem, ki so na poti izboljšanje sveta z delanjem tega, kar ljubijo.
Ko sem prvič zagledala Zulu Zion zokne, sem si zaželela, da bi to bila zgodba o uspehu. Barviti in zabavni? Jaa, jaz se javim! Ko sem videla projekt na Kickstarterju, sem si mislila, da ga bom podprla enkrat do konca meseca, ko plačam svoje prispevke in položnice. Ne morem pomagat drugim, če sama rabim pomoč! Ne morem dat stran svojega denarja, da podprem sanje o uspehu od nekoga drugega, ko nimam dovolj, da bi plačala za svoje sanje o uspehu!
Ampak, ali je to res? Ne morem pomagat drugim, če sama rabim pomoč?! Če bom tako razmišljala, ne bom nikoli mogla pomagat drugim, ker sama vedno rabim pomoč! Fucking ljudje smo! Skozi potrebujemo drug drugega! No, ne ravno vsako minuto, ker rabimo čas tudi za sebe, ampak saj veste, kaj mislim?
In tako sem vzela mastercard iz denarnice in šla na Kickstarter oddat svojo podporo za Zulu Zion nogavice, najbolj nore med vsemi nogavicami! Oblikoval jih je kreativni slovenski par, ki se je naveličal dolgočasnih zoknov. In priznajmo, zdaj ko so Zulu Zion zunaj, izgleda vsak drug par dolgočasen.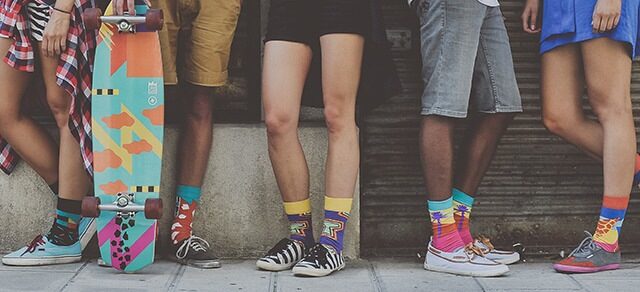 Which are your favorite? My favourite pair today is called Rico.
Kateri so vam najljubši? Meni je danes Rico par najbolj pri srcu.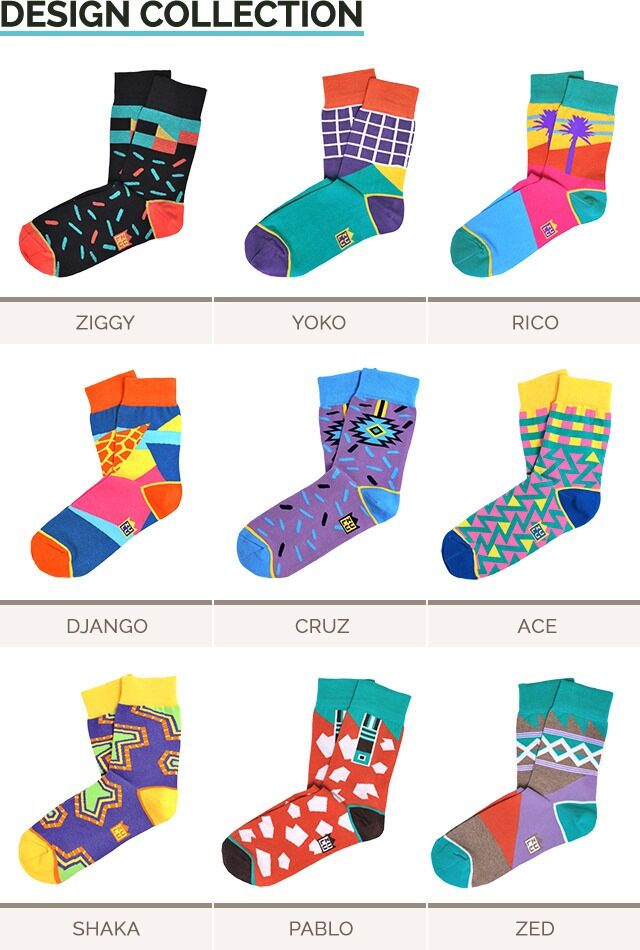 And to whom your gonna give your support in any way today?
In koga boste na kakršenkoli način danes podprli vi?
With Love,