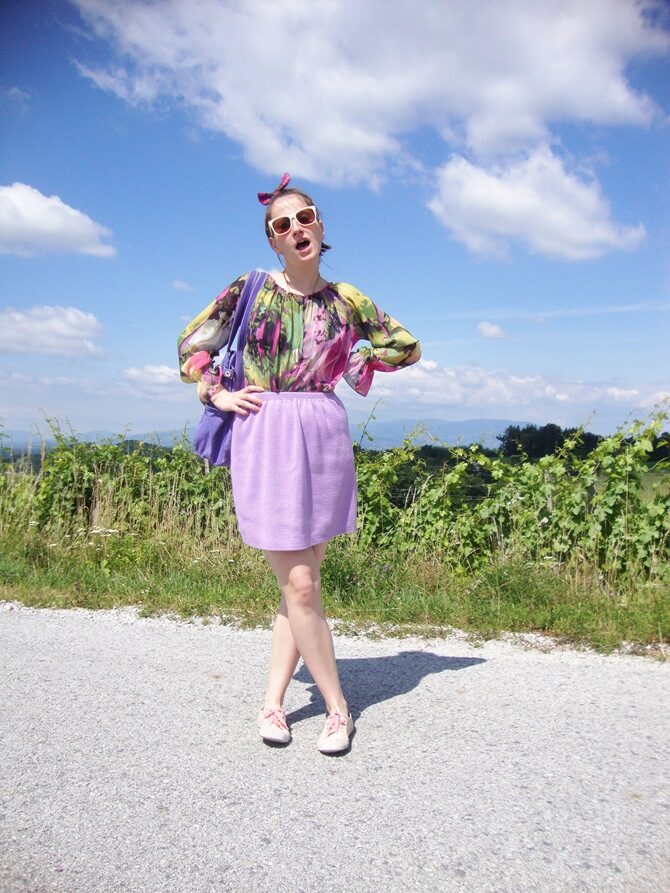 Hollaaaa! Ko sem urejala te fotke, sem pomislila, da mogoče izgledam na njih malo preveč srečno. Kot da bi bila zadrogirana. In pravzaprav sem. Zadeta sem od Življenja!
A ni hecno, kako se nam zdijo negativna čustvena stanja bolj družbeno sprejemljiva, kot pa pozitivna?
Imam prijateljico, ki je tudi tak pozitiven sonček, nabit z energijo. In kaj se ji dogaja? Ljudje jo sprašujejo, katere droge jemlje! Tudi meni se je že to večkrat zgodilo. In včasih se zdi, da gre tvoja sreča drugim na živce, včasih pa so njihove besede v bistvu občudovanje. "Na čem si ti, da si skoz tako dobre volje? Mislim, jaz bi tudi to vzela!"
No, da vam odkrijem, na čem smo mi sončki.
Naši drogi sta Lepota in Hvaležnost. V svet gledamo z zvedami očmi in marsikaj opazimo. Starejši par, ki se drži za roke, mamo, ki prijazno odgovarja na vprašanja svojega otroka, sonce, ki nanese zlato na vse okrog v jutranjih in večernih urah, čudovite poteze na obrazih najbližjih, srečo našega psa, ko pridemo domov ali ko gremo z njim na sprehod, čudovite cvetove vseh barv, čudežna "naključja" po katerih spoznavamo nove ljudi ali na novo spoznamo tiste, ki so že v našem življenju, orgazmično simfonijo zvokov narave, čudovit komad z globoko liriko,… V glavnem, Lepoto danega nam Trenutka.
In za vse to smo hvaležni. Hvaležni, ker nam je dano videt takšne trenutke in v njih uživat. Hvaležni, ker smo zmožni videt.
Seveda imamo tudi slabe dneve. In včasih jočemo zaradi krivic v svetu, včasih zaradi krivic, ki se dogodijo nam. Včasih jočemo, ker smo spet naredili isto napako. Ampak so nas izkušnje že naučile, da se v vsakem slabem slej ko prej najde tudi nekaj dobrega. Če ne drugo, smo se naučili nekaj o sebi, opazili kakšen vzorec, po katerem delujemo. In si s tem tudi dali možnost, da ga spremenimo.
*
No, zdaj pa grem uživat v šivanju in slikanju (: Enkrat drugič, pa z vami podelim nekaj nasvetov in trikov, ki so meni spremenili življenje neprimerljivo na boljše!
*
Punce, ne pozabite sodelovat v nagradni igri. Podarila bom dva Revlonova lakca za nohte (:
___
Hollaaaa! When I was editing this pictures, it came to my mind that I maybe look to happy. Like I am on drugs. And I actually am. I'm high on life.
Isn't it funny how negative emotions seem more appropriate in our society than positive ones?
I have a friend who's such a sunshine, full of positive energy. And what's happening to her? People ask her which drug is she on! It also happened to me a bunch of times. Sometimes it seems that your happienes bothers other people, but sometimes they admire it. "You're always so happy, what you take? I mean, I would love some of it too!"
So, I'll tell you now what do we sunshines take.
Our pills are called Beauty and Gratitude. We look at the world with curiosity and we see a lot! Old couple walking hand in hand, mum, who kindly answers every question her child has, sun, which makes everything look gold in golden hours, beautiful lines on faces of loved ones, excitement of our dog when we come home or when we take him for a walk, beautiful flowers, miraculous "coincidences" that make us meet new people or make us meet people which are already a part of our lives in a new way, orgasmic symphony of the sounds of nature, beatiful song with deep meaning,… We see Beauty of a given Moment.
And we are thankful for all this. Thankful, because those moments are given to us to enjoy them. And thankful that we are aware enough to see this.
Of course we have bad days too. Sometimes we cry, because of injustices in this world, that happen to others or the ones which happen to us. Sometimes we cry, because we make same mistake again. But experience is the best teacher and it learned us so far, that every bad thing has a seed of good one. At least we learn something about ourselves, see some pattern in our life that makes us act so and so. And when we are able to see patterns in our life then we can change them.
*
So, I'm gonna enjoy now in sewing and painting (: And in one of my next posts I'll share with you tips and tricks that are making my life awesome!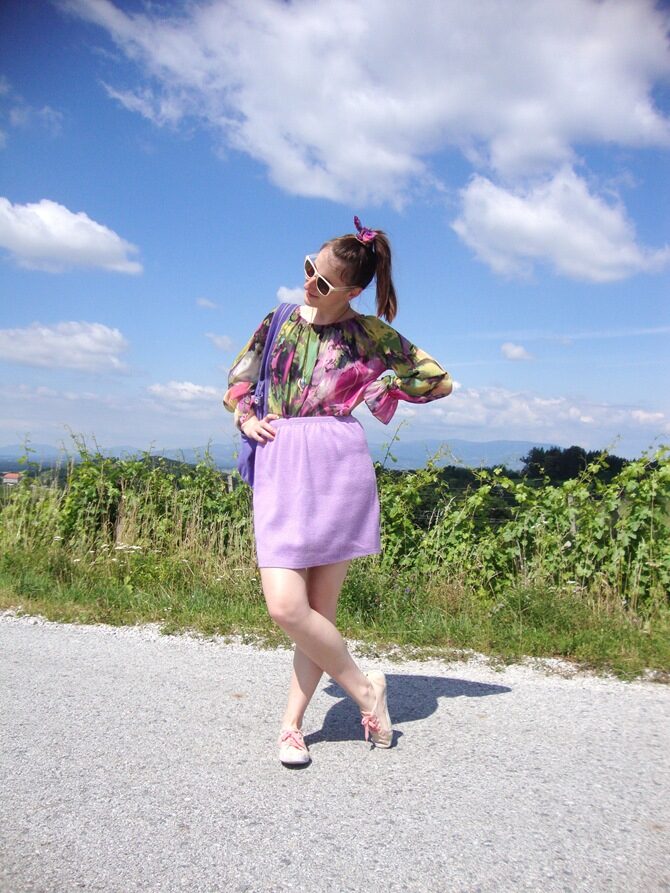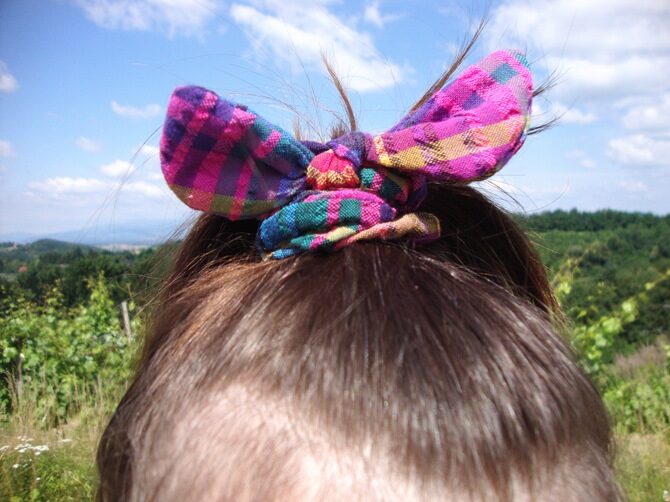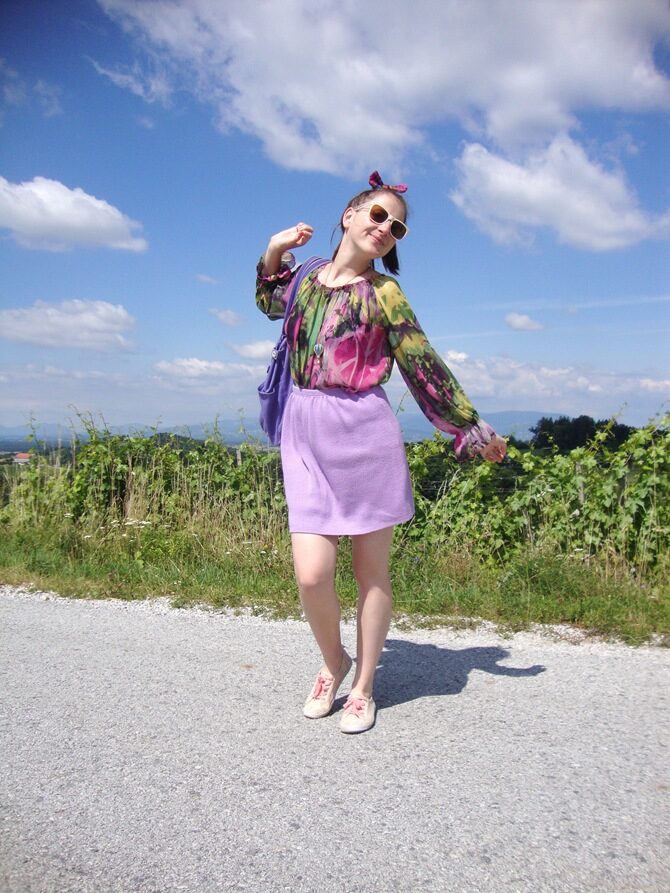 (Vintage krilo, secondhand bluzica; O3 očala; 3 Ptice gumica z ušeski; H&M torbica in pateki, Spark verižica) (Vintage skirt; secondhand blouse; O3 sunglasses; 3 Ptice scrunchie with ears; H&M bag and shoes, Spark necklace)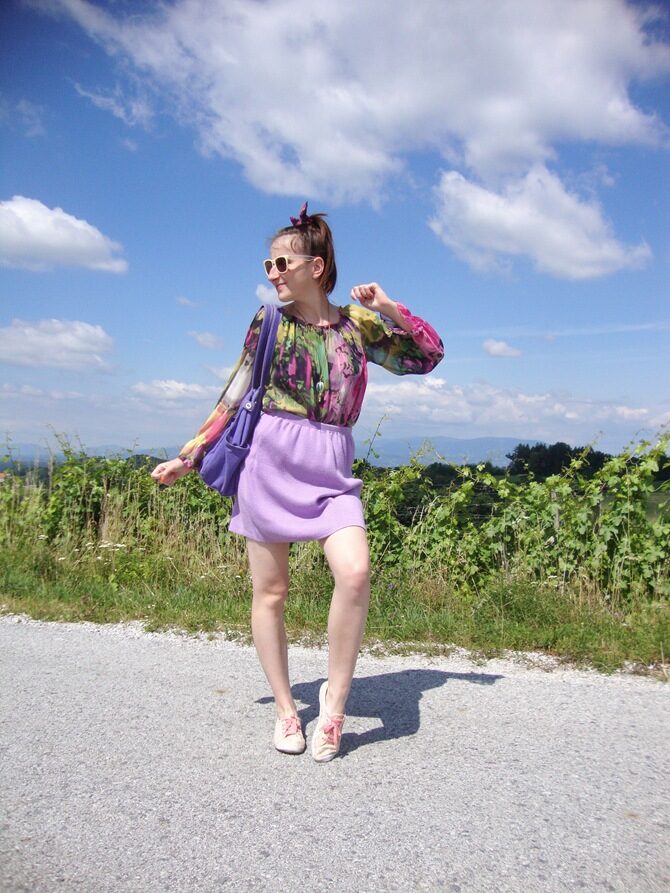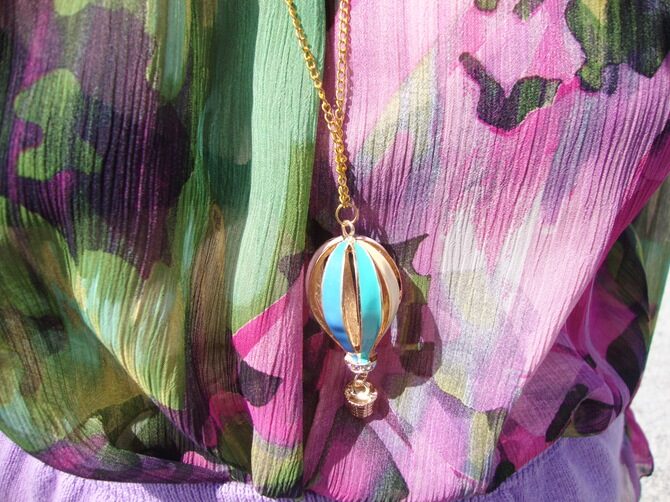 With Love,