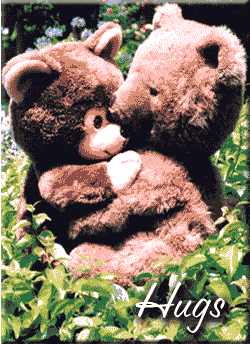 Maja je prišla z morja. Jutri grema in tha city 🙂
V soboto sem dobila kiklco. Kak je blo sexy v kabini. Hihi.
Aja, videla sem mojiga bogeca [tip ki mi je (bil) norohudofuckin' všeč] z njegovo punco v Evroparku. On pa mene z Juretom.
Včasih sem si želela, da bi me videl z fantom, da si ne bi mislil, da je nevemkaj. Čeprav je. Lol.
In sem ga na ignore vrgla, čeprav je gledal proti meni.
Potem sem ugotovila, da je to bilo precej otročje [shame on me]. Lahko bi se mu vsaj nasmehnila 🙂
Da, in potem v parku, ko sva bila z Juretom objeta, in je vse bilo tako fuckin' popolno, da mi je šlo na jok od popolnosti, sem mu rekla:
"Jure."
Zasmejal se je.
"Kaj je smešno?"
"Povej prvo kaj si mislila."
"Trenutno te ljubim."
Seveda je bil srečen potem 🙂 Cuker.
"Aja, veš zakaj sem se zasmejal prej ? Ker sem ugotovil, da se nikoli ne kličeva po imenih."
In potem, ko sva se zvečer še pogovarjala na msn-ji, mi je povedal, da mu je to bil najlepši dan z mano.
Kako lepo 🙂 V bistvu je bil meni tudi.
Danes sem dobila pismo od Samota 🙂
Narisal mi je konja. Pa še nekaj pesmi, sicer ne avtorskih, ampak pravi, da se mu takšne misli že od nekdaj porajajo v glavi.
Kako fajn da nima interneta 🙂
Da si imam s kom pisat prava pisma.
How oldschool is that ? 😀
Aja, verjetno bom spet začela nosit špangico v tem stilu:


[To verjetno ne bo vplivalo na zvišanje zavesti Zemljanov.]
Hvala ti za kavo!